The number of non-UK European Union citizens registering for work in the capital has fallen substantially in the last two years, according to Department for Work and Pensions figures, which show a drop from 51,707 in the third quarter of 2016 following the EU referendum, to 33,400 for the same period last year.
The downward trend was accompanied last year by an 11 per cent decline in construction jobs in London and one of a five per in transport jobs according to Office for National Statistics data. The two sectors employ considerable numbers of non-UK EU workers, and the trends indicate that "the decline in EU migration might be manifesting itself in skills shortages," according to think tank Centre For London, which has published the statistics in its latest London Intelligence bulletin.
The fall in national insurance number registrations (NINos) by non-UK EU citizens contrasts with those by non-EU overseas foreign workers, which has held steady at around 20,000 each quarter since the start of 2015.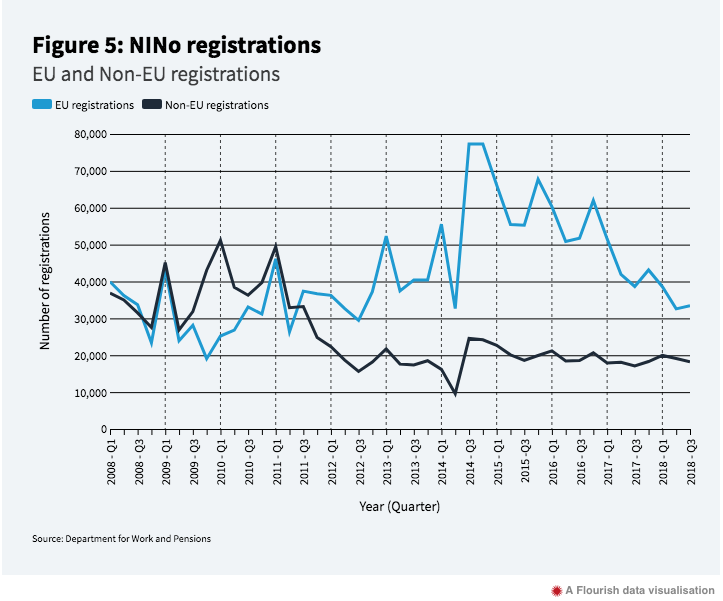 Last month, London Mayor Sadiq Khan criticised national government's proposed "skills-based" post-Brexit immigration policy, saying it "flies in the face" of what London businesses want and would hit recruitment in several parts of the capital's economy, including construction, social care, health and hospitality. The London Chamber of Commerce and Industry has called for the Mayor to be given in new role in administering immigration to make it easier for London businesses to hire the workers they need.
Graph from Centre For London London Intelligence Issue 7.