Integral to Grosvenor Britain & Ireland's plans for redeveloping their Cundy Street flats and the adjacent Walden House in south Belgravia is the case that doing so will put the piece of prime Central London land in question to better use. That case includes constructing more housing on the site than is currently there but also, crucially, fashioning a new piece of the wider London neighbourhood that will enhance local quality of life.
In keeping with its drive to increase public trust in developers and the planning system from its current lamentable level, Grosvenor wants to enthuse the area's residents with its vision. A key figure in crafting that is Deborah Saunt, director and co-founder of DSDHA, the architecture and design studio responsible for Corner House on Charlotte Street, the Edmund de Waal Studio and Gallery in West Norwood and Waterloo City Square, among many other projects in London and elsewhere.
I met Saunt at one of the second batch of local drop-in sessions organised by Grosvenor last month, where she was on hand to explain to residents, with the help of a scale model (see picture), how she foresees Cundy Street Quarter shaping up. It seems fair to assume that scrutiny from some will be exacting. The site is encased on three sides by the formidable Belgravia conservation area (one of 56 in the borough of Westminster) and stands a stone's throw from the Chelsea Barracks and Ebury Bridge development sites. Sensitivity to change and disturbance has the potential to run high.
Saunt, though, is an accomplished advocate. She says her work is about "more than just bricks and mortar," and that she and her colleagues are now "spatial strategists" rather than purely architects. They addressed the Cundy Street site from above and from the ground and in the context of both the built environment around it and the uses to which the area is currently put, including by people who move through it.
"This location lies at the crossroads between movement east-west and north-south," she says. "The site itself was once at the very heart of these junctions – a meeting point between Victoria, Chelsea, Pimlico and Belgravia. During the war it got bombed, a fence was put around the whole perimeter and it no longer acted as the heart of this area."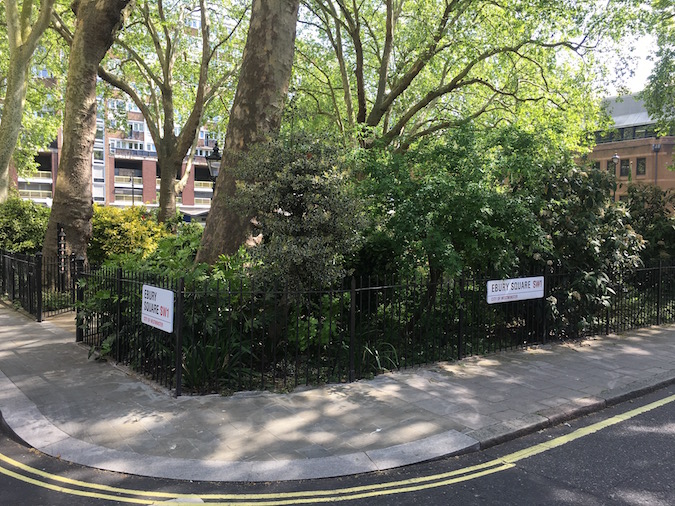 By "fence", she means that the four blocks of private flats constructed in the place of what was levelled do not face on to a street and are contained within a space of their own. Walden House, a social housing block, similarly faces inwards. The redevelopment proposal is framed in part as a work of restoration, inviting people back in to a hived off space. "We're trying to reinstate the heart of a village," Saunt says.
An anchor feature is the tiny Orange Square, sometimes, apparently, known as Mozart Square, due to it statue of the young composer, who lived in a house on Ebury Street. To the east of the other end of the site is Ebury Square, which surrounds Ebury Square Gardens, a small public park, where builders eat their lunch and small schoolchildren are taken by teachers for enlightenment and exercise ("Sienna and Amir, please stop digging").
Saunt says the gardens are important as "the first square in London that was open to the public. Think about that – no public spaces in London before that at all." Even Hyde Park, a short distance away, was barred to ordinary Londoners until 1867. However, she believes the green space has become largely parted from its historic mission.
DSDHA's work has entailed conducting what Saunt calls "100 conversations" – an informal street questionnaire exercise to ascertain how and why people move through the area and what they make of it. "People talked about Orange Square. They talked about Sloane Square [a ten minute walk away]. But nobody said, 'Oh, and I really love Ebury Square'."
Saunt believes the gardens have become inhospitable, perhaps ironically because its trees have grown so tall, creating too much shade: "In the summer, it's cold there." The tallest new building planned would look outwards on to the square, which Saunt says would have the effect of "reactivating" the space and creating a sense of ownership of it among the new Quarter's residents, drawing it out of its current partial isolation.
The new Quarter would enable people to walk through the site, from one square to other partly by way of a new Elizabeth Place, which was one of the streets obliterated thanks to the bomb. Another key local feature is the handsome St Barnabas church on Pimlico Road, a Grade I listed building with a fine spire. This has been the historic village centre, and Saunt says her design aims to highlight views of it and in so doing enhance the general village feel that residents have been telling Grovenor they value highly.
She also stresses the need to imagine the Quarter as it would be experienced by people on the ground, whoever they might be. That is partly about being mindful of not jarring with the wider historical context but also about people entering the area, travelling through it or lingering there and making use of it, locals and visitors alike.
Saunt hopes a bit of road space can be taken away "to create a nice gateway into this part of south London". A keen cyclist, she says she's been pedalling through the area for 12 years and has always thought "what an underwhelming way to enter a new part of the city". As well as being residential, it is space that people move through in significant numbers, with a surprising proportion of them heading towards Chelsea Bridge and Battersea Park across the river, rather than towards the West End.
There's a farmer's market every Saturday in Orange Square, but Saunt says the 100 conversations revealed that, in general, very few people spend time at this confluence of vaunted London districts. "We found this distinctive overlaying of different groups of people who don't really come together any more. If you think about a high street, normally you get that nice intermingling. We're trying to bring back that feel by creating an amazing place people will choose to come to to meet other people, that is really, really diverse and ambitious in its social breadth, and a place for everybody to live and relax and shop in."
Much has yet to be settled, of course, and the final blend of shops and housing – a mix of market, affordable and senior living homes that has yet to be finalised – will be an important factor in how far Saunt's ambitions are realised. Meanwhile, the consultation process continues, with much feedback being absorbed and and some local resistance taking shape. There are many dimensions to the project's progress. On London will continue to follow it. The first, introductory, piece of the series is here.
OnLondon.co.uk is dedicated to providing fair and thorough coverage of London's politics, development and culture. The site depends on donations from readers and is also seeking support from suitable organisations. Read more about that here.