Competition for being London's most blinkered anti-regeneration cause celebre has been hot of late, but the campaign to save the indoor market by Seven Sisters Underground station, known as the Latin Village, is in this Donkey Derby's leading pack.
Few can match it for stamina: for at least a dozen years, a quarrelsome yet self-replenishing alliance of conservationists, Protest Leftists, "community" agitators, Liberal Democrats and some of the traders operating in a section of a dilapidated former furniture store have been agitating against the property firm Grainger delivering Haringey Council's policies for the area.
Throughout that time, they have succeeded in taking a whole herd of journalists for a ride and persuaded hundreds of members of the public to give them thousands of pounds to make plans for alternative developments that will never be built and for a legal challenge that has been laughed out of court
Last week, in a classic operation of its kind, a bunch of Save Latin Village activists dominated much of a People's Question Time event in Wood Green in a vain and vainglorious attempt to get Sadiq Khan to take their side against the demolition of the rotting block known as Wards Corner and its replacement with something better for the people of the neighbourhood and, yes, for most of the Latin Village traders themselves.
Let's look at some plain realities. There is, first and foremost, no way on this Earth that Haringey Council is going to break its long-standing legal agreement with Grainger for the Wards Corner building to be knocked down and redeveloped. To even try it would devour vast quantities of human and financial resources that could not possibly be justified. To press on would be suicidal.
Grainger has spent 15 years and millions of pounds negotiating the purchase of the site from its various owners and has reached agreement with the biggest and most significant one – Transport for London, which owns the part above the Underground station where the Latin Village is and is currently making sure it's not about to fall down. Eventually, Haringey, being the relevant planning authority, used its compulsory purchase powers (CPO) to secure the last few bits of the jigsaw and so clear the way for the second part of the wider Seven Sisters regeneration to commence.
The first part is already nearly finished, though reading the propaganda of the "Save" campaign – much of it repeated and legitimised by Big Media outlets – you'd never know it. A building that was Haringey's customer service centre has been replaced by Grainger with a new one directly across the Seven Sisters Road from Wards Corner to which Latin Village traders are entitled to temporarily decamp – rent-free for the first three months – while a permanent new home for them is constructed on the same site as the present one. While indignation is directed at the absence of any "affordable" homes in the Wards Corner plans, no mention is made that such dwellings comprise 40 per cent of those in the block across the street.
Needless to report, strenuous efforts to impede the improvement of Wards Corner have also been made within the council, reflecting the unending faction fighting and personal feuding of the majority Labour Group and a Liberal Democrat opposition whose stance appears identical to the Hard Left's. Committees containing some of the world's most devout worshippers of Jeremy Corbyn have done their very best to locate questionable pretexts for giving a vocal minority what its wants while, in the cloth-eared manner of their flattened hero, ignoring the preferences of others who live and work in Seven Sisters and what might be best for the area and the borough.
Council leader Joe Ejiofor, many of whose comrades have been plotting his removal since the day he took the helm of the so-called "Corbyn Council" in 2018, has been breaking it gently to Jeremy fans who continue to make local Labour politics nasty and daft that any attempt by him to "save" the Latin Village in its present form would be insane. He has set up his own group of councillors to work out a way forward and he and his cabinet have accepted some of the backbench underminers' ideas. In-depth interviews conducted with most of the market traders themselves revealed that more than half of them are actually in favour of the regeneration plan.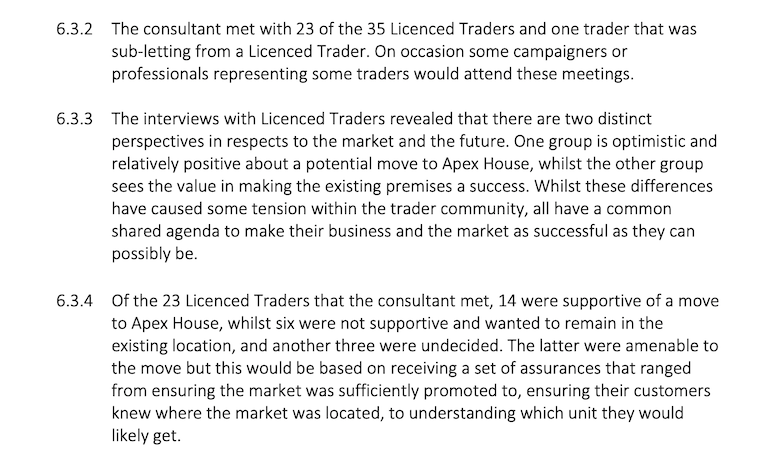 But even as the besieged leader tiptoes through these minefields, power over the process continues to pass into other hands. Much ire has been directed at the company that manages the market, but that part of this saga will be history when its contract expires later this year. The CPO will take effect. The traders will cross the road and a new building will start to rise next to Seven Sisters station. Some of the traders have already made their enthusiasm for this publicly known. Even hardened Haringey class warriors find the "Save" campaigners unrealistic and, in some cases, pretty unpleasant.
Of course, in the alternative universe the oppositionists inhabit, every other interested party is a spinner of fake news. They should take a hard look at themselves. It is proclaimed that the council has long been deaf to the voices of the traders and dismissive of alternative ideas. This is drivel. Special provisions to preserve a Latin American market space have been written into the plans since 2008 and in 2014 Haringey designated it an "asset of  community value". Opposition leaders have been given time in the diaries of a succession of Haringey leaderships and even the top brass at City Hall.
Their "community plan" has been granted planning consent. But what its advocates didn't mention to the 353 people from whom they raised over £9,000 is that it doesn't stand a cat's chance in Hell of being put into effect. The champions of this plan don't own the building. They don't have the resources to buy it, let alone develop it. The "community plan" will never be realised.
Last year, a judge dismissed the core contention of a legal bid to overturn the CPO as "inherently incredible". Its proponents immediately asked for yet more money, saying they would seek to appeal. But anyone wanting to support the Latin Village and its traders should put their pounds to better use. When the Village moves to its temporary home across the road, they should go there and spend. And when the permanent new quarters for the Village opens, they should go there too and spend some more.
It is time to bring this farrago of presumption, self-indulgence and disinformation to an end. Seven Sisters will be graced by a new Wards Corner, with a new and much improved Latin Village market at its heart. Let that new market be built. Let's help it to flourish. Let's start that job right now.
OnLondon.co.uk is dedicated to providing fair, thorough, anti-populist coverage of London's politics, development and culture. It depends on donations from readers and would like to pay its freelance contributors better. Can you spare £5 (or more) a month? Follow this link if you would like to help. Thank you.