Already, 2021 is becoming another year like no other. Here in London, we all expect to enter another decade of austerity and funding cuts to basic services. But Londoners cannot afford another lost decade of under investment in public services, housing and infrastructure.
In order to rebuild London's economy and to support all Londoners, the city must find new sources of revenue and take real steps towards greater fiscal and political autonomy. Piloting a legal cannabis production and retail market would be one great way to start this process.
Encouraging trends are already underway. Cannabis exchange-traded funds are currently listed on the London Stock Exchange, the UK is the world's largest medical cannabis exporter, and investment bankers are raising funds around the world to launch cannabis investment products. Yet more than 15,000 Londoners are still arrested each year on cannabis possession and supply charges.
The UK's explosive growth as a medical cannabis exporter has made a small number of people very rich, fed by a government-sanctioned monopoly over cannabis production granted to British Sugar with a UK Home Office exemption from national drug prohibition laws. This shows that governments can enable legal cannabis markets if they want to. In 2021, Londoners and our local government should have an opportunity to join the global cannabis production and supply ecosystem that estate agent Savills expects to be worth more than $66 billion by 2025.
Innovation is possible. Since 2016, British Sugar has grown marijuana plants in an 18-hectare greenhouse in Norfolk and other facilities, making it the only legal cannabis producer in the UK. This cannabis feeds GW Pharmaceuticals, one of the world's largest producers of cannabis-based medicines exported for use in the US. Currently, the economic benefits of cannabis production and supply are enjoyed by monopoly producers and their investors, and by criminal elements who currently dominate the retail drug trade. It is time for London to lead the opening up of a retail cannabis system that benefits all of us. We cannot wait for central government to act.
Political leaders from all parties should come together this year to ensure that Londoners can benefit from this growing industry and that local government finances receive a fair share of its locally-generated tax revenues to reinvest in essential public services. An innovative market ecosystem could include local hydroponic production of London cannabis strains and retail brands to support local use and tourism recovery.
If London politicians do not support local entrepreneurs seeking to enter the market, it will remain a cartel run by a combination of criminal syndicates serving the illicit market and a small group of politically connected businessmen producing medical cannabis for export. Tax revenues from US states that have legalised cannabis production and sale (see below) indicate how a well-regulated retail market can support local business and boost government revenue.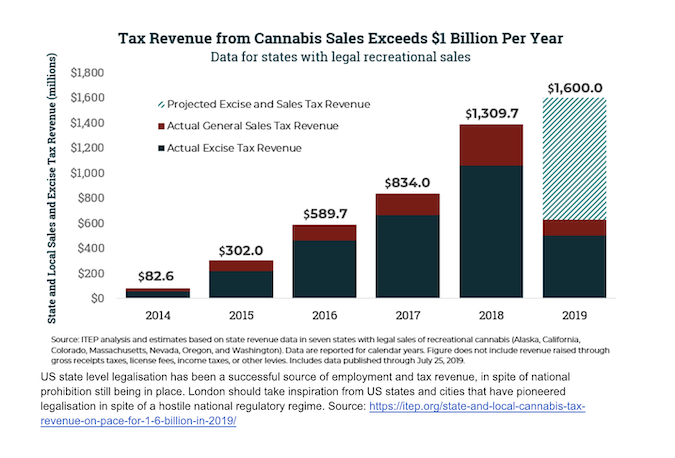 The decriminalisation and legalisation of cannabis production and supply in London should be a priority to ensure that London government can benefit from a burgeoning local and global market. This would also free up police time and resources to focus on more important issues, such as financial fraud and violent crime. Funding from a taxed retail market could help schools and support badly needed investment in affordable housing, youth clubs, better public transport, new public parks, and other local services we all rely upon.
While London sits still, other cities around the world are rapidly moving ahead with the decriminalisation of drug possession and the creation of vibrant cannabis production and retail ecosystems. London's backward approach will become even more apparent as the new US administration moves ahead to legalise cannabis at the federal level there. With the need for rapid progress and new sources of local tax revenue top of mind, all mayoral candidates and London councils should support legalisation and work together on a robust retail market architecture that supports London's recovery.
Hamish Stewart advocates greater fiscal and political autonomy for London and other UK cities as part of the London Independence project. An online roundtable discussion of the cannabis issue will take place next Thursday, 18 February. Image: US Fish and Wildlife Service via Britannica.
OnLondon.co.uk has been providing in-depth coverage of the UK capital's politics, development and culture since February 2017. It depends greatly on donations from readers. Give £5 a month or £50 a year and you will receive the On London Extra Thursday email, which rounds up London news, views and information from a wide range of sources, plus special offers and free access to events. Click here to donate directly or contact davehillonlondon@gmail.com for bank account details. Thank you.