Boris Johnson's relationship with the Uxbridge & South Ruislip constituency was, like many of his relationships, brief and transactional. It was there for him when he needed a parliamentary nomination in 2014, and has been summarily dumped in 2023.
Like his first parliamentary base, Henley, it was a stop on the way from Oxford to power in London. In resigning from the House of Commons, he has doubled back, at least for now. In his maiden speech in 2001 – he was no maiden by the time he was elected for his second seat in 2015 – evoked Jude the Obscure gazing out from the ridge near where the M40 is now upon the Oxfordshire plain towards the distant spires. He is now a steward of the Chiltern Hundreds.
It is hard to know if Johnson would have won a recall by-election. There are some indications that he might have. One is that the Conservatives remained well ahead of Labour in last year's local elections for Hillingdon Council, suggesting they have a strong core vote in the area. Another is Lord Ashcroft's local poll, published on 6 June, that put Johnson 17 points clear and found constituents more willing to call him a good or great constituency MP and Prime Minister than they were to condemn him as bad or terrible in either role.
In addition, the only example we have of an MP defending a recall by-election was in Brecon & Radnorshire in 2019. In that case the MP, Chris Davies, had admitted wrongdoing in a court of law (in contrast to Johnson, who hasn't owned up to anything). But although he lost the seat he did not see a big drop in his vote share.
But each of these pieces of evidence suggesting Johnson might have survived is open to interrogation. It may be, for example, that Hillingdon's Tory councillors are better-liked than the former PM. Polling experts have raised questions about the Ashcroft sample. And Occam's razor tells us that Johnson would have lost. His approval ratings nationally are lower than those of Xi Jinping and Philip Schofield, and on the basis of national voting intention polls and local MRP extrapolations, the seat will fall to Labour.
While Johnson's resignation removes the personal factors which – pace Lord Ashcroft – probably help a new Conservative candidate, the sword of Damocles is still hanging over the by-election, swinging in the breeze of a uniform national swing.
It will take place, probably during July, using the current constituency boundaries. Boundary Commission recommendations for changes, though not yet finalised, are very likely to be implemented and would somewhat favour the Conservatives, but won't take effect until the next general election as long as it is held later than this October.
The core of the current constituency is the suburban town of Uxbridge itself on the River Colne at the western edge of the London metropolitan area and at the end of a branch of the Metropolitan Line sometimes shared with the Piccadilly. It reaches south of central Uxbridge to a tangle of straggly urbanised villages that have grown together – Yiewsley, Colham and Cowley – to the east of the town at Hillingdon, the suburban village which has given the borough its name, and across Northolt airfield to South Ruislip.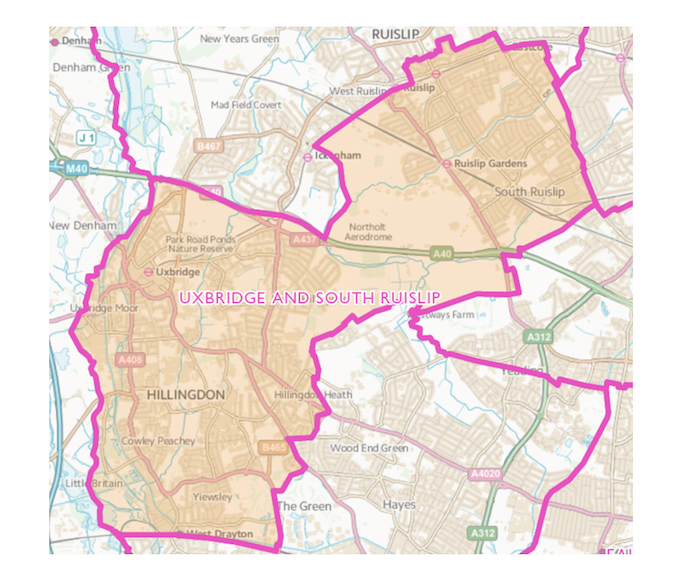 I wrote a profile of Uxbridge & South Ruislip in November 2019, and although the situation of Johnson and the national context have transformed since then, the constituency is recognisably the same place. There are parts of London where vast new developments have been built or sudden gentrification has taken hold, but Uxbridge is not like that. There is social change, but it is more gradual and has cross-currents.
The increasing ethnic diversity of the area has been mostly South Asian in origin, yet not predominantly from one community – the Hindu population is greatest in South Ruislip, Sikhs in Hillingdon and Muslims in Uxbridge town. Even in the the more traditionally white working-class areas, such as Yiewsley, the overall BAME community has risen from around 30 per cent in 2011 to over 40 per cent in 2021, and they are increasingly home to commuting professionals. The spectacular success of the Elizabeth line, whose West Drayton station is at the south edge of Yiewsley, may accelerate these trends.
The political-demographic movements are contrary in different parts of the seat, which is part of the reason why Uxbridge has neither trended strongly to Labour nor really become safely Tory at parliamentary level. Hillingdon's Conservatives, less noisily and contentiously than their Harrow neighbours, have managed to remain strong even as the north west London suburbs have become increasingly Indian-British. They have accommodated ethnic minority retirees, managers and professionals in their electoral coalition in Ruislip and Northwood.
Uxbridge and the urbanised villages are influenced by Brunel University, which has over 16,000 students and 2,500 staff. There are over 4,000 students living in halls of residence, mostly in south Uxbridge and Colham, and more scattered in rented accommodation across the Uxbridge area. Yet even in these wards the Conservatives have tended to prevail in local elections.
This may be part of the reason why local and general elections are so different in the constituency. Students are reluctant to turn out to vote for Hillingdon, a borough with which they have little affinity, but they have stronger views about national politics. Labour candidate in 2019, Ali Milani, had come up through Brunel student politics and was also elected to the council – for the Heathrow Villages ward in the neighbouring Hayes & Harlington seat – in 2018 and 2022. His campaign was youthful and Corbynite. It failed to connect with many of the longer-established residents, but aroused enthusiasm in some quarters, boosted by the distant prospect of ejecting Johnson. This may be hard to replicate in 2023.
The South Ruislip end of the constituency may now be the most loyal to the Conservatives. As well as Hindus, who seem to have warmed to the Tories in recent elections, it has a higher proportion of people who own their homes outright and are therefore insulated from mortgage rates and rising rents. Labour used to win the ward based on the council-built estates in South Ruislip, but were well behind the Tories in 2022. The social housing proportion in this area has fallen to next to nothing, thanks to right-to-buy and stock transfers. Ruislip Manor, just to the north, was privately developed as part of the massive 1930s Metroland building spree.
Until the last couple of elections, Uxbridge had been drifting gently to the right for decades. Labour's Frank Beswick held on when Anthony Eden's Conservatives were winning a solid national majority in 1955, but he lost in 1959 to the Tory Charles Curran. Labour has only won the seat once since then, when John Ryan secured a single term in Harold Wilson's landslide victory in March 1966, and has missed apparently good opportunities. The Conservatives held on, despite an unpopular national government, in the by-election resulting from Curran's death in December 1972 and again in July 1997 despite the first Blair government enjoying its honeymoon.
The Tories made a canny selection on that occasion, opting for local credibility in the affable form of John Randall, who ran a family-owned department store in Uxbridge. Randall served until 2015 and was warmly regarded by colleagues and constituents of all parties. The same cannot be said of his successor, though the 2015 version of Boris Johnson as he came to the end of his second term as London Mayor was much less divisive than the 2023 edition. The Conservatives would be wise to again seek a local figure, given the experience in 1997 and the good local election results.
To win the seat, Labour needs to run up the score in its better wards: Yiewsley was their strongest in 2022, when they also won a seat in Uxbridge itself and came close in Colham and Cowley, the ward around the University. They also need to break even in Hillingdon village and not lose too badly in South Ruislip. Their candidate, Danny Beales, has been in place since December. He is a Camden council cabinet member, but he was born and grew up in the constituency.
The odds are with Labour, but the complex demography and electoral politics of Uxbridge & South Ruislip – and that history of surprising Conservative holds in 1964, 1972 and 1997 – means it cannot be taken for granted. It will be a fascinating contest, an indicator of what post-Johnson politics is going to look like.
Twitter: Lewis Baston and On London.
On London and its writers need your backing. Give £5 a month or £50 a year and receive in return the weekly newsletter On London Extra and (at no additional charge) invitations to events featuring eminent Londoners. Pay using any of the "donate" buttons on the site, by becoming a paid subscriber to my Substack, or directly into the company bank account. Email davehillonlondon@gmail.com for details. Thanks, Dave Hill.