Parliamentarians have been told that the 2021 Census may have "significantly undercounted" the true number of Londoners, which "could have a major impact on future funding allocations for the capital's public services if not adjusted for".
In a nine-page briefing for MPs and Lords, London Councils, the body which represents all 33 of the capital's local authorities, shows that the first set of figures released by the Office for National Statistics (ONS) from the survey undertaken on 21 March last year is at odds with previous ONS estimates of the number of Londoners and suggests that the discrepancy could be due to a significant portion of the population moving out of the city only temporarily during the third national Covid lockdown.
The briefing also stresses the more usual difficulty of accurately quantifying Londoners because of the capital's "higher levels of homelessness and migration and its more transient population, with greater language and cultural barriers and higher concentrations of buildings that are difficult to access".
Population estimates and projections based on the census "directly or indirectly influence around £4 billion of funding received by London boroughs," the briefing says. "It also underpins funding for the NHS, police, fire and other much-needed frontline services as well as providing a detailed breakdown of population characteristics, helping authorities tailor services to reflect the needs of residents".
The Census headline figure is that London's "usual" population increased by 626,ooo (eight percent) between 2011 and 2021, to give a total of 8,799,000. However, the ONS mid-year estimate for 2020 – almost a year earlier – put the figure at just over nine million, and its "sub-national population projection" (SNPP) for 2021 was 9.1 million (see chart below).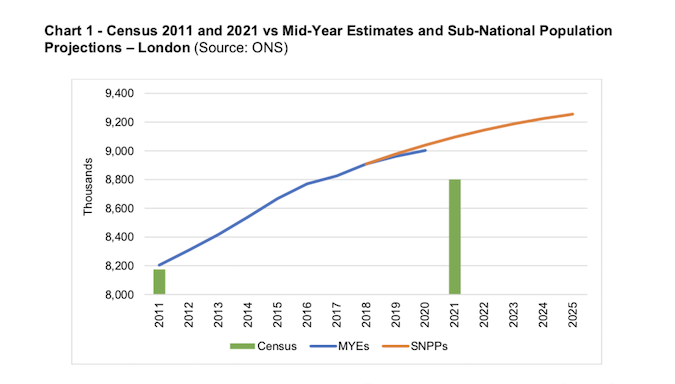 The briefing also produces what it calls "strong evidence" from the ONS suggesting that employment levels among young people who might have moved out of London during the pandemic has "almost recovered", along with a recovery in GP registrations after "a temporary reduction in 2021".
Household data is also cited as indicating that Londoners were short-term absent on Census day, with the Census saying there had been an increase of 156,000 since 2011 but the Department for Levelling Up, Housing and Communities reporting that 313,000 net additional dwellings were completed over the same period.
There are local variations within the overall picture, also set out in the briefing, with some areas of London producing Census figures that were higher than previous measures, notably the parliamentary constituencies of Brentford & Isleworth, the three Ealing seats and Mitcham & Morden. However, the majority showed lower figures, notably huge differences of nearly 24 per cent in Holborn & StPancras and Hampstead & Kilburn (both in Camden) and Westminster North.
London Councils repeats in its briefing its warning that "the data should be treated with extreme caution" but also records that the ONS recognises the potential weakness in its figures having already stated that "the coronavirus pandemic may have affected some peoples' choice of usual residence on Census Day, for example students in some urban areas" leading to changes that "might have been temporary for some".
The briefing urges the ONS to "sense-check population estimates against other administrative data sources" in order to "develop an accurate and robust approach to measuring a fast-changing population".
On London strives to provide more of the kind of  journalism the capital city needs. Become a supporter for £5 a month or £50 a year and receive an action-packed weekly newsletter and free entry to online events. Details here.