London has the highest rate of poverty in the whole of Great Britain, according to a new report on living standards, poverty and inequality published today.
Independent analysts the Institute for Fiscal Studies found that the proportion of people in poverty in the capital is a massive 31%, which is higher than elsewhere in the country as a whole, and that the more extreme forms of hardship reach as much as 47% higher.
In terms of "headline" poverty, defined as having a household income below 60% of the national median, London's 31% rate was the most extreme of any English region, ahead of the North of England's rate of 23% and an overall GB rate of 22%.
Both "income poverty" and "expenditure poverty" rates were also at their highest in London, running at over 20% in each case, compared with 15% and under nationally. The criteria for these two definitions are 50% or more below the national median.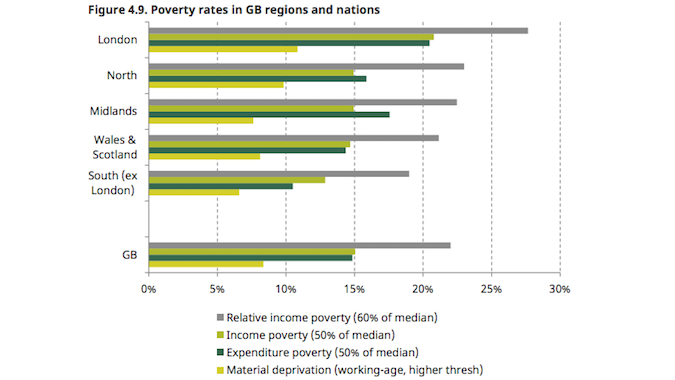 London also has the highest rate of "material deprivation", the most extreme form of poverty, at 11%, the report finds. The equivalent figure for the England, Scotland and Wales as a whole is 8%.
The statistics, compiled with support from the Joseph Rowntree Foundation, demonstrate that characterisations of the capital's population as predominantly better off than counterparts elsewhere in the country are misleading.
Last month, a breakdown of national child poverty rates by the End Child Poverty campaign showed that ten of the 20 highest in England were in London local authority areas and parliamentary constituency areas.
Commenting  on the IFS report, Labour London Assembly Member Leonie Cooper claimed it "exposes how the most vulnerable Londoners continue to bear the brunt of austerity" and that national government's argument that work is the best route out of poverty rings hollow with Londoners when the increase in the employment rate and the minimum wage is effectively nullified by their welfare reforms".
OnLondon.co.uk is dedicated to providing fair and thorough coverage of London's politics, development and culture. The site depends on donations from readers and is also seeking support from suitable organisations. Read more about that here.