The Conservative candidate for London Mayor has apologised for the first time for writing in 2005 that the effect of celebrating Muslim and Hindu festivals is to "rob Britain of its community" without which "we slip into a crime-riddled cesspool".
Shaun Bailey, currently a member of the London Assembly, told the audience at a Peoples' Question Time event in Islington last night, that he is, "Super sorry if I caused any kind of offence to people".
BBC political correspondent Susana Mendonça, who attended the event, described it as the first time she had heard Bailey apologise for expressing those views, which he made in a pamphlet published by the Centre for Policy Studies think tank.
Bailey has faced a barrage of criticism since being selected at the end of last month to run for the mayoralty in 2020 over arguments about the erosion of national culture he made in the pamphlet and elsewhere during the same period, including claiming that young women deliberately become pregnant in order to qualify for council housing.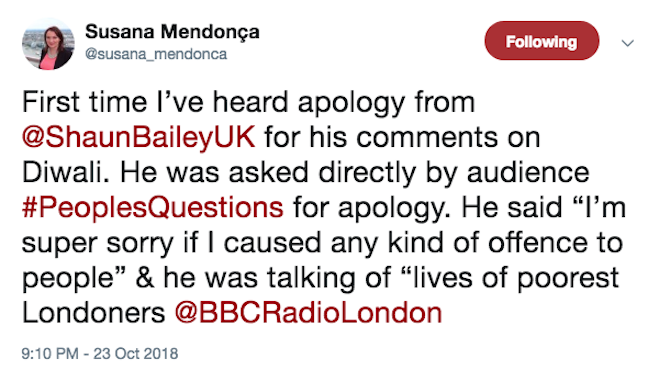 Pressed by a member of the audience to apologise for what he had written about multiculturalism, Bailey replied that he expressed the views in the context of, "Working with the poorest communities in London," and said what he wrote was "a plea from the streets." He said, "I was replaying the conversations that I was having with parents," and appeared to explain that certain things he had said came out when being interviewed and "asked about these things, and one of my young people had just been stabbed." He also repeated a defence he has previously offered that "I was not a career politician" at the time but "at that point I was definitely a youth worker."
However, London Mayor Sadiq Khan, who was also at the event, responded that he had been brought up on a council estate,"raised poor," and said that "Being poor is no excuse for making offensive comments." And Labour AM Leonie Cooper, discussing Bailey's apology with Vanessa Feltz on the BBC Radio London, drew attention to Bailey's use of a conditional "if" in his Peoples' Question time apology.
Ten days ago, Tory London MP Greg Hands, a former minister for London, said that he "very much" supported Bailey's candidacy and believes that he no longer holds the "immature" views he had expressed 13 years ago.