Conservative London Mayor candidate Shaun Bailey has been accused by his Liberal Democrat rival of playing a "heartless cheap trick" on voters by distributing campaign literature disguised as a threat from Sadiq Khan to raise their Council Tax unless they "take action".
Luisa Porritt demanded an immediate apology from Bailey for a leaflet headed with an invented coat of arms bearing the words "City Hall" which falsely claims that the Mayor is "set to" increase his share of Londoners' Council Tax by over a fifth.
One side of the leaflet says in block capitals "London Mayoral Council Tax Rise – Do Not Ignore" and the other is headed: "If You Do Not Take Action Your Mayoral Council Tax Will Rise By 21.2%." This is followed by a list of figures which claim to be what the Mayor has "planned" to raise from households as his Council Tax share, known as his precept, in 2021.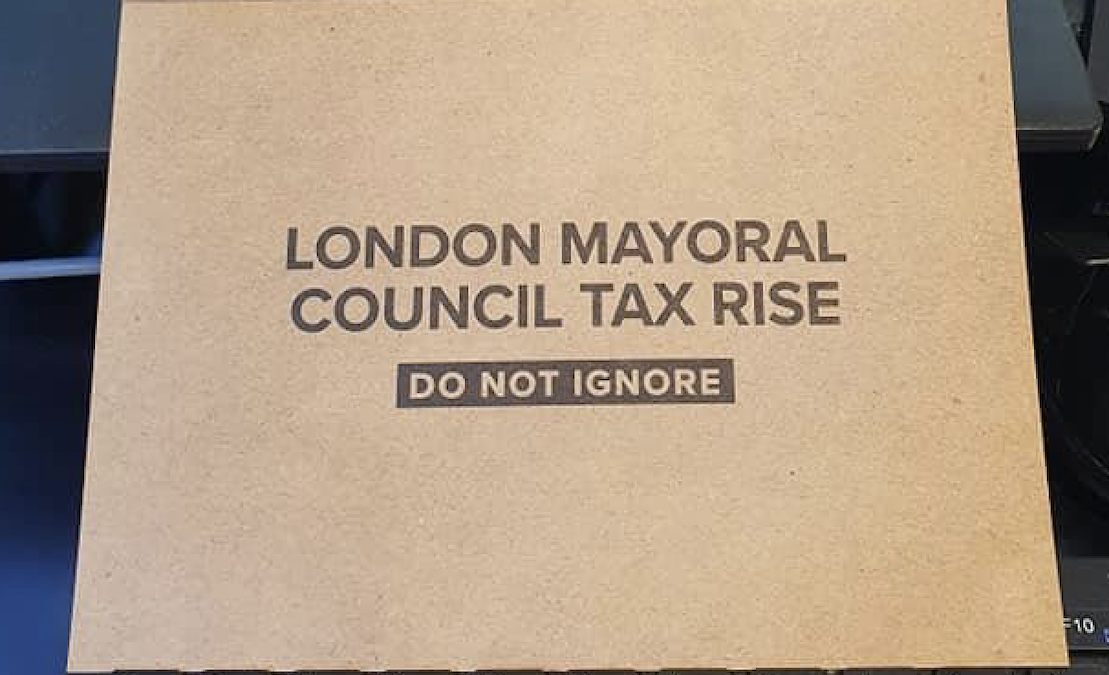 The leaflet only reveals that it is Bailey campaign literature in small print at the bottom, where it is described as "promoted by Kerry Halfpenny on behalf of Shaun Bailey" and does not state that Bailey is the Conservative Party candidate. It invites people to visit a website which mentions the Conservative Party only in a section soliciting mailing list contacts.
The Mayor warned at the start of last month that he might need to increase the precept, describing this as a possible consequence of the second and most recent emergency funding deal struck between Transport for London and the government. In recent City hall exchanges with Bailey he declined to rule out a precept increase.
A rise in the precept is thought likely as the Greater London Authority, in common with London's boroughs, wrestles with a fall in income from that source and from Business Rates. However, a draft Greater London Authority budget submission for financial year 2021/22 published last month contained none of the figures presented in Bailey's leaflet and no announcement has been made by the Mayor about next year's precept level.
On London understands that a fuller "consultative budget" to be published today will have no details about Council Tax precept changes either.
The Bailey leaflet, which makes allegations about "wasteful spending" at TfL, also falsely claims that "in the second [TfL] bailout's settlement letter, Sadiq Khan revealed that he's planning to pass the cost on to Londoners with a rise in Council Tax." In fact, the settlement letter – which was written by transport secretary Grant Shapps, not Mayor Khan, and can be read on the government's website – does not say that a precept rise is planned.
What it does say (at paragraph 12) is that in order to meet the cost of continuing to provide free public transport for 60-65 year olds and under-18s "TfL and the Mayor have proposed that this could potentially include proposals to maintain the Congestion Charging changes implemented in June 2020…and/or by an increase to the existing TfL element of the GLA Council Tax precept from 1 April 2021".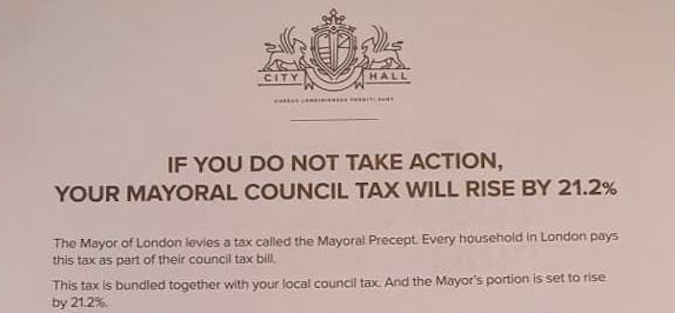 Porritt, writing on Twitter, characterised the Bailey leaflet as "a heartless, cheap trick to play at a time [when] so many Londoners are worried sick about making ends meet" and as "inappropriate behaviour from someone standing for Mayor." She said an apology should be given for "the distress your act of desperation will cause".
Every opinion poll conducted this year has shown Bailey trailing Khan by at least 20 percentage points, suggesting he is on course for a heavy defeat in the rescheduled mayoral election on 6 May next year.
Last month, criticism of Bailey (pictured above) and his campaign received national media attention for leaflets and a website claiming to provide "facts" about the first TfL emergency funding package which, like the Council Tax leaflet, only disclosed that it was Bailey campaign material in its small print. Bailey's campaign website also conceals the fact that he is the Tory candidate.
Bailey's campaign has been invited by On London to explain why it has produced further campaign material which appears to seek to hide Bailey's party affiliation and why the Council Tax leaflet contains false statements and attempts to mislead people into thinking it is from City Hall.
OnLondon.co.uk exists to provide fair and thorough coverage of the UK capital's politics, development and culture. It depends greatly on donations from readers. Give £5 a month or £50 a year and you will receive the On London Extra Thursday email, which rounds up London news, views and information from a wide range of sources. Click here to donate directly or contact davehillonlondon@gmail.com for bank account details. Thanks.