It is easy to mistake St George's church in Bloomsbury Way for a spire with a church hanging underneath it. Nicholas Hawksmoor's English baroque masterpiece, consecrated in 1730, was necessarily constructed in cramped surroundings, because there were already buildings on either side. That is why from most approaches, and especially from the British Museum, all you see is the spire until you arrive at the church itself.
But what spire! It is a building in its own right. Its sculptures of lions and unicorns – two of each, all recent recreations of the originals standing more than ten feet high – represent the conflict between Jacobites and the Crown. Far above them stands a statue of George – not Saint George, the founding father of the church, but King George I, the reigning monarch of the time.
The only statue of that King George in London, it looks almost like a case of product placement, as it is highly unusual to have a monarch on top of a church, let alone one dressed in a Roman toga bestriding a stretched pyramid above a mini-temple (photo below, left). Not even Henry VIII thought of that. Unsurprisingly, the Church Commissioners were reluctant to pay for such a frivolous work, but eventually gave way. It is, to say the least, distinctive.
Most people first come across the spire unknowingly when they look at William Hogarth's famous apocalyptical painting Gin Lane (1751). It is a picture of a city imploding under the effects of cheap gin, thanks to William of Orange's promotion of Dutch spirits. But it also shows a beacon of hope in the background – yes, it is the spire of St George's.
The church was partly built in order that the "better sort" could have a place of worship away from the nearby St Giles, which was right in the middle of the rookery of which Gin Lane was a part. This was not a convenient place for the carriages of the affluent, who were arriving in droves at newly-fashionable Bloomsbury, to linger.
One of the numerous people to be fascinated by Hawksmoor's spire was the artist J M W Turner. He used his own drawings of it to illustrate the first perspective lecture he gave at the Royal Academy in January 1811, which discussed the effect of viewing the spire from the ground at different angles.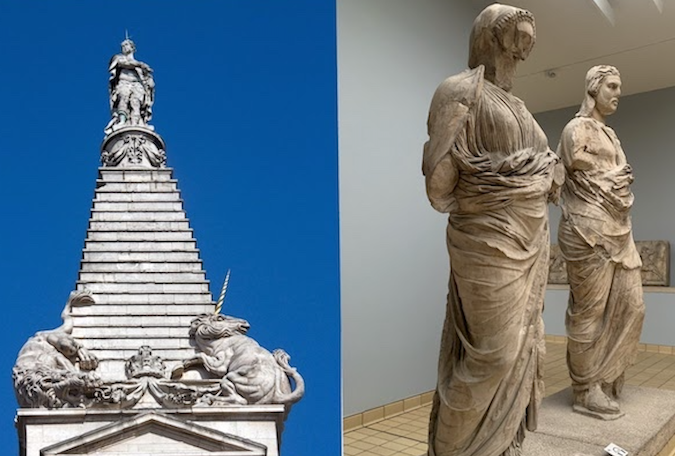 Hawksmoor dug into an escapist past with this spire. It is based on one of the Seven Wonders of the World, the Mausoleum of King Mausolus at Halicarnassus in Turkey, or at least Pliny the Elder's description of it. The building, 140 feet in height, was not finished when Halicarnassus died, but the sculptors and masons carried on to complete the job. It dominated the surrounding area for some seventeen centuries until a series of earthquakes in the 13th century destroyed it. But it lived on in name, because Mausolous became the generic name for grandiose memorials or mausoleums.
What is less well known is that this Wonder of the World also lives on in a very physical sense only a couple of hundred yards from Hawksmoor's church. That is because, by happenstance or psychogeography – take your choice – huge statues from the mausoleum (above, right) have ended up in the British Museum, which was opened just 30 years after St George's.
Main photograph by Tony Hisgett. Photo of Mausolus Mausoleum statues by Vic Keegan.
This article is the third of 25 to be written by Vic Keegan about locations of historical interest in Holborn, Farringdon, Clerkenwell, Bloomsbury and St Giles, kindly supported by the Central District Alliance business improvement district, which serves those areas. On London's policy on "supported content" can be read here.