The churchyard of St Botolph-without-Bishopsgate, near Liverpool Street station, is like no other in London. Where else in the middle of this frenzied city can you find a relaxing garden, a tennis and netball pitch, a converted Turkish bath, a church hall that once hosted a City livery company and, of course, a working church?
And then there are the people.
In 1556 Edward Alleyn, one of the great actors of the Elizabethan Age and the founder of Dulwich College whose father ran a pub across the road, was baptised there.
Three years later so was Amelia Bassano who, in 1592, married Alfonso Lanier in the same church, taking her husband's surname. Several members of the Bassano family were influential court musicians, but Amelia became one of the most interesting women of her age. You don't have to believe she was the "dark lady" of Shakespeare's sonnets, as some think, or that she was the real author of his works, as a recent book claims, to appreciate her importance. 
Amelia was indisputably among the very first women to publish a book of poetry, and also a pioneer of proto-feminism through her emphasis on social and religious equality for women. She even dared to suggest in her verses that it may not have been Eve who tempted Adam in the Garden of Eden, but the other way round.
There is no evidence that Shakespeare had associations with the St Botolph church although, as he lived nearby, he might have. His friend and rival Ben Jonson was certainly acquainted with it, as his infant son is buried here.
In 1650 Sir Paul Pindar, a great City dignitary was interred in the graveyard. He is remembered as not only a successful merchant and benefactor, but also because the facade of his house, which stood where the Bishopsgate entrance to Liverpool Street station is today, is preserved in the Victoria and Albert museum. It is just about the only example of the front of a London house from that era to survive.
In October 1759 Mary Wollstonecraft, author of A Vindication of the Rights of Woman and surely a soul mate of Amelia Lanier, was baptised at St Botolph's. It is an extraordinary coincidence that two giants of feminism should have been baptised in the same church, albeit 150 years apart.
We should also mention that amazing business woman of the late 18th century Eleanor Coade, whose statues of school children fashioned from Coade stone adorn the outside of the church hall. And on top of all that, if you go into the church you will see the very font where another literary giant, the poet John Keats, was baptised in 1795.
But pride of place in St Botolph's history should arguably go to William Rogers, who was appointed its rector in 1863. He was appalled by the squalor and poverty around him and also by the disturbing fact that much of the money accumulated by the church over the centuries from bequests was used to fund jollies for the great and good. Rogers was determined to put these funds towards improving the lot of the labouring poor instead.
As the Bishopsgate Institute records: "He enabled families to get access to clean drinking water by fund-raising for new drinking fountains in local streets. He was involved in the construction of bath and wash-houses, and he campaigned to establish play areas, schools, and picture galleries in his community." The opening of the Institute in 1895 was Rogers's crowning achievement. It was devoted to the education of those who most needed it in his parish and elsewhere, and it is still flourishing today.
St Botolph's is also unusual in that for 40 years until 1992 its church hall hosted a livery company – the Worshipful Company of Fan Makers. This was a rare example of the co-existence of God and Mammon, but the fortunes of the company have a familiar ring about them.
Fan making was brought to Britain by French craftsmen in the late 1500s. Their numbers received a huge boost in 1685 after the Catholic King Louis XIV of France revoked the Edict of Nantes, a measure introduced by a predecessor in 1598 granting rights to the country's Protestant minority, known as Huguenots. Many Huguenots found sanctuary in London and renown as East End silk weavers. They were fan makers too.
Since then, domestic fan making has had its ups and downs. In the early 1700s the East India Company, just down the road from St Botolph's, flooded the market with hundreds of thousands of cheap fans made by untrained workers in China, who were paid a pittance. Sound familiar?
Fan makers in England continued to produce high quality fans and still do, but there were no home manufactured fans on display at the Great Exhibition of 1851. Much later, in April 1998, a company called Fan Enterprises Ltd was launched to sell a Millennium Fan. That was a good idea, but sadly the product was made in Spain as no English fan makers good enough to do the job could be found.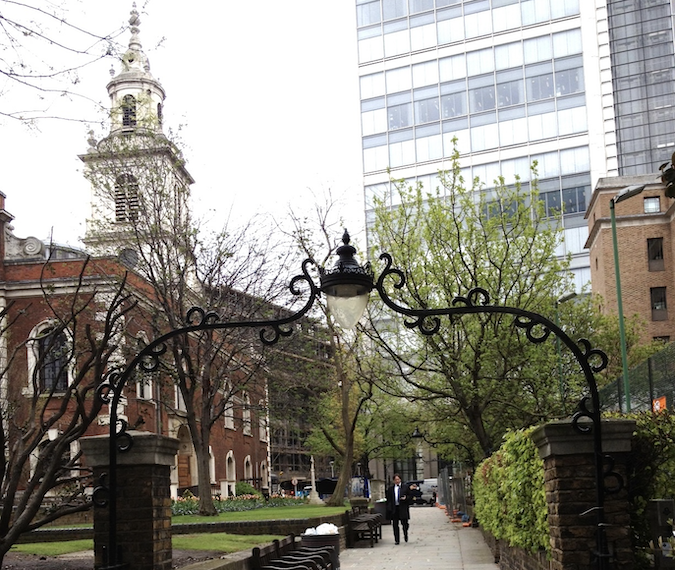 And what of St Botolph himself? A revered East Anglian noble, he died in 680 after a long life of Christian endeavour and became known as the patron saint of wayfarers, of whom many interesting examples have left their imprint on this fascinating church and its surroundings.
This is the eighth article in a series of 20 by Vic Keegan about locations of historical interest in the Eastern City part of the City of London, kindly supported by the EC BID, which serves that area. On London's policy on "supported content" can be read here.