On March 23, 1786  James Parkinson struck it lucky. He won the entire contents of a large London museum in a lottery for which he had paid a little over £2 for two of the 8,000 tickets sold. Sales were considerably lower than the 36,000 target hoped for. It must be the cheapest museum ever sold.
The collection – including lots of specimens collected by Captain James Cook on his voyages – had been painstakingly built up by Sir Ashton Lever, first in Manchester and later in Leicester House, the former royal dwelling that dominated Leicester Square. He rather ambitiously gave it the Greek name Holophusicon after a word meaning "whole of nature". John Quincy Adams, the future President of the United States, wrote home in the 1780s during a sightseeing visit to London full of praise for it. 
Lever obtained an Act of Parliament to sell all of it by lottery after failing to get the British Museum or Catherine the Great of Russia to purchase the collection. This enabled him "to dispose of his Museum, as now exhibited at Leicester House, by Way of Chance." It by then included 26,662 specimens.
At first, lottery winner Parkinson kept the collection at Leicester Square. But after a few years he moved it to a new building on the southern side of Blackfriars Bridge at No 3 Blackfriars in Albion Street (as the top end of Blackfriars Bridge was then known) and renamed it the Lever Museum, though it became known as the Blackfriars Rotunda because of its circular core. It would have occupied much of the space now dominated by the huge "carbuncle" skyscraper there.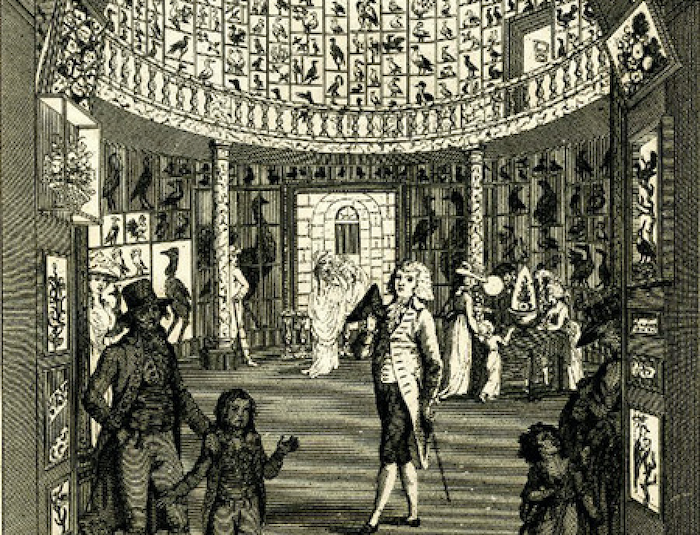 After a while, Parkinson, like Sir Ashton, also tried to dispose of the contents including another attempt to sell it to the government which, on this occasion, was stymied by the distinguished naturalist Joseph Banks.
Instead Parkinson decided to sell the contents in an extraordinary auction (not to be confused with the lottery in which he won it in the first place). It commenced on May 5, 1806 and didn't terminate until the end of July. The official part of it finished on the 57th day after the 6,800th item had been sold. But after that there was an Appendix which took up another five days. Among the thousands of smaller items sold were two fighting cocks "trimmed down for fighting", a small crocodile, a Southsea snake, Siberian Jaspar and a gilt frame with skins of North American snakes. The catalogue has been put online, but you may need to take a short holiday to get through it all.
The contents ended up all over the country and abroad – maybe the Britian's first distributed museum – but the building itself continued with multiple uses, including as a music hall and a pub – the Royal Albion – until it was eventually demolished in 1958. Whether the skyscraper that now dominates the site marks a cultural improvement can only be left to the imagination.
The rest of Vic Keegan's Lost London series can be found here. His latest volume of poetry can be bought here.
OnLondon.co.uk is dedicated to providing fair, thorough, anti-populist coverage of London's politics, development and culture. It depends on donations from readers and would like to pay its freelance contributors better. Can you spare £5 (or more) a month? Follow this link if you would like to help. Thank you.