Over 100 years ago a small group of luminaries from the hospitality sector, including Auguste Escoffier, the most famous chef of his era, and the hotelier Cesar Ritz, were worried about the lack of young people in London qualified to work in catering establishments.
Sound familiar? They decided to do something about it. With the help of money from heiress Baroness Angela Burdett-Coutts, who had a special interest in the field, they came together to develop a school for professional cookery. What would we give today to have an institution with such distinguished heritage?
Actually, we have. Escoffier's school still exists and although revered by those who know about it – not least for its associated restaurant – it remains one of London's hidden gems. It stands on the corner of Vincent Square and Rochester Row under the banner WK Westminster Kingsway College. It is a neighbour of St Stephen's church and a primary school, both of which were also built by Burdett-Coutts, who inherited a large fortune which, with advice from Charles Dickens,  she devoted to philanthropy.
But first, a bit of background. The Vincent Square site was originally established by the Baroness in 1894 as an institute for teaching technical skills to local children, not least alumni of her primary school close by. At first, evening courses were provided for practical skills such as construction, plumbing, carriage-building and other trades before going on to offer a wider range of engineering courses.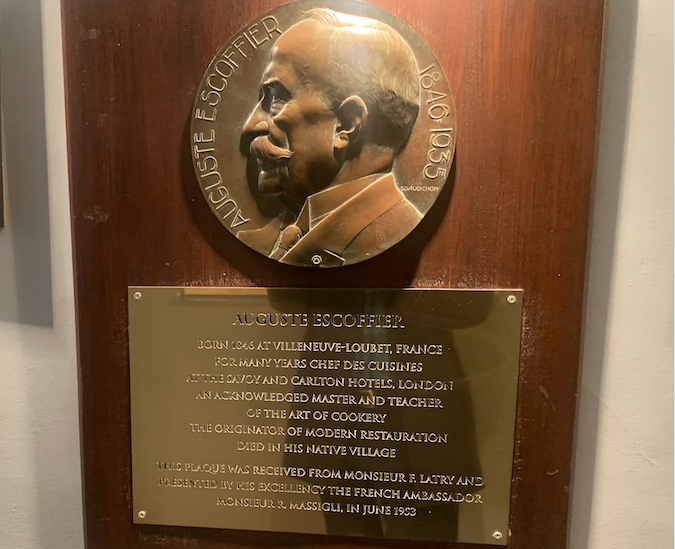 In 1904 the technical institute merged with the flourishing Westminster School of Art, which moved to Vincent Square from Tufton Street near Westminster Abbey, where it had been part of the Royal Architectural Museum. The hospitality and catering section was launched in 1910 and blossomed into today's Westminster Catering College, the first institution of its kind in the country. It has to be said that its "brand" has become somewhat hidden behind that of its parent institution, the Westminster Kingsway College. But underneath it is a hive of culinary activity.
This is obvious as soon as you enter the building. On your right is a bar area leading to a large well-appointed brasserie in which students cook and serve delicious meals during term time. Ahead of you is – you've guessed – the Escoffier Room, where third year students will offer you a tasty menu considerably cheaper than elsewhere. And as you go in you can hardly fail to notice a sculpted plaque of the great man himself.
In this building you can learn to be anything from the front of house person to a chef, helped by an amazing number of kitchens behind the scenes including one devoted to chocolate making. Its alumni include celebrity chefs such as Jamie Oliver and Ainsley Harriott as well has a huge number in restaurants throughout the country. It is Escoffier's dream come true.
All previous instalments of Vic Keegan's Lost London can be found here and a book containing many of them can be bought here. Follow Vic on Twitter.
On London strives to provide more of the kind of  journalism the capital city needs. Become a supporter for £5 a month or £50 a year and receive an action-packed weekly newsletter and free entry to online events. Details here.