Windrush campaigners filled Hackney Town Hall's Assembly Hall last Saturday for a public meeting, organised by Windrush Action and Black Activists Rising Against Cuts. Speakers included immigration lawyer Jacqueline McKenzie, Martin Forde QC, who is advising the Home Office on the Windrush Compensation Scheme, former London Mayor adviser Lee Jasper and former chair of the Metropolitan Black Police Association Leroy Logan. Among issues on the agenda was a co-ordinated National Day of Action in six English cities on 22 June, the anniversary of the Empire Windrush's arrival.
Despite massive social changes since then, London remains very much the centre of gravity of Black Britain – 1.1 million of the 1.9 black respondents to the 2011 census lived in the capital. Nationally, more than 3,000 members of the Windrush generation have been given British citizenship in the wake of the scandal. But 17 people, by the Home Office's count, have died after being wrongly detained or deported. Appealing for "more people to make more noise", in protest at victims still destitute or stuck abroad, McKenzie said: "This crisis is not over, in fact I think it's just beginning." Will this also be true of the political impact of the scandal?
There was moving testimony from those at the sharp end of hostile environment policies, such as Elwaldo Romeo who spent 12 years in Kafkaesque "no status" limbo until the Home Office admitted he had had right of abode all along. Mother-of-four Yvonne Duncan, who came to the UK from Jamaica aged 14, was told she was illegal after she landed a job, and asked to sign on at the immigration reporting centre at Croydon. She's now trying to pay back £1,300 she borrowed for legal assistance to formalise her status, at the very moment her daughter had been rushed to King's College Hospital with a suspected brain haemorrhage. Anthea Hart described how her husband, having served out his 20 month jail sentence, was, without warning, taken back into a detention centre that is "worse than prison" in January this year and, on 6 February, deported to Jamaica.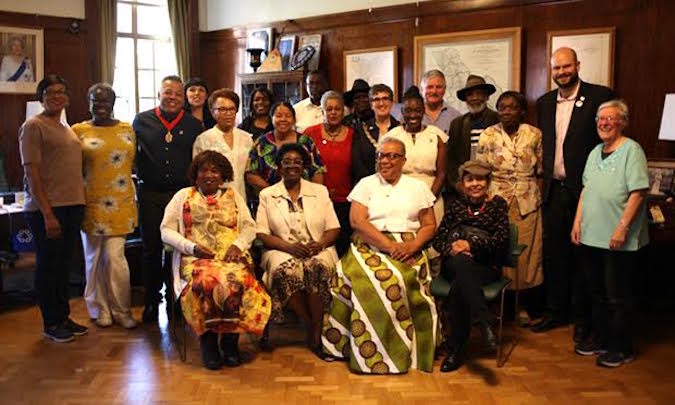 Many speakers saw the Windrush scandal in a broader context of intolerance of migrants and infringements of civil rights going back to the previous Labour government. Society of Black Lawyers chair Peter Herbert argued black Britons should withhold their remittances to Caribbean relatives, to stop governments there cooperating over deportations. Mayor of Hackney Philip Glanville raised the Home Secretary's stripping of British citizenship from Shamima Begum – "someone who was frankly groomed" – as a worrying precedent. He spoke of his pride in Hackney as the first local authority to pass a motion of "really strong solidarity with those facing criminalisation and deportation" (before being himself harangued over a Hackney Council worker who is a Windrush descendant being sacked from her job).
Logan said the government should be held to account over whether Equality
Impact Assessments have been performed on all its policies – presciently so, as the "right to rent" scheme requiring landlords to make immigration checks was today ruled in the High Court as violating human rights. Jasper, in rumbustious form, geed up the crowd with his call for no cap on compensation for Windrush victims and the co-ordinated Day of Action. But only a minority were enthused by his plan for civil disobedience by stopping traffic. From the floor, Clive Morrison suggested Windrush protesters should adopt hi-vis vests, French-style, to become "an army" against a self-interested political class.
The Windrush compensation scheme is not now expected to launch until Easter at the earliest, a year after it was announced. A hardship fund set up last December amid criticisms of the compensation process for taking too long was found to have made payment only to one person by the end of 2018. With more than 15,000 thought to potentially be entitled to compensation, the home secretary has called on the Treasury for an extra £150 million towards the estimated £310 million cost.
Forde said his aim was a "very accessible" scheme, "so that people have to produce a fairly basic level of information and explain how they suffered, and then hopefully we can make compensation payments relatively swiftly". He reassured audience members his job is "to keep prodding on your behalf". He offered examples which suggested a broad eligibility range:
"If your older relative was doing your childcare and they were threatened with deportation, and your ability to earn was compromised because you couldn't rely on that support, then you could be eligible…People come to me and say they've been treated as foreign students. Where their earning capacity or entry into further education has been compromised they too could qualify."
Citing the case of Willow Sims, born in the US before coming to the UK and found to have been wrongly been denied help, he was at pains to point out that "Windrush" did not just mean Caribbean or Commonwealth citizens.
Another proposal for the compensation scheme has come from campaigner Patrick Vernon, who was invited to the Hackney event but was unable to attend. It was Vernon who started the 200,000-signature petition for government recognition of Windrush Day. He hopes for a scheme on the same standard as a civil court's – no cap on payouts, no block on compensation for those convicted of historic offences, and a recognition of the impact immigration status blunders has on mental health and wellbeing. A "poundshop" scheme would be counterproductive, he argues, as victims would take their cases to court and, if successful, the government would be liable for both the settlement and the legal costs.
Is it realistic to expect a scheme broad and deep enough to meet both Forde and Vernon's objectives? Jacqueline McKenzie believes the government is very worried about the reaction from groups like the TaxPayers' Alliance to the final cost. Ministers may be weighing up which is worse: yet more delay, or a scheme that leaves the government looking stingy.
When the Windrush Generation's suffering finally topped the news agenda, it was, as British Future's Sunder Katwala points out, a rare example of a cause backed by both the Guardian and the Daily Mail. Might a direct action approach keep the issue in the headlines  and yet prove alienating? Vernon thinks not, given that demos featured strongly in the build up to Windrush Day in 2018, although he feels April, marking a year since the scandal broke, is a more appropriate time for protests than Windrush anniversary day itself.
The issue is also a challenge for London's Conservatives – whose support among BME voters flatlined or slipped back at the 2017 election, costing them diverse seats such as Croydon Central and Kensington – and for their London Mayor candidate Shaun Bailey.
Sadiq Khan has liaised closely with Windrush campaigners and allocated £20,000 to the Windrush Justice Fund, which provides legal support. Bailey has a close connection to Windrush. He wrote a heartful piece referencing his mother's arrival from Jamaica in 1964 without her own passport and the need to ensure such a scandal never happens again, while defending the government's response. He will need to start building bridges with community leaders with markedly different politics from his own and become comfortable talking about Windrush in a way which is both inclusive and in line with his values of "independence, self-reliance, and personal achievement".
Meanwhile, the outcome of the scandal for thousands who have been shamefully treated remains uncertain. "I don't want to be hopeful," said Elwaldo Romeo at the end of the Town Hall meeting. "I've been hopeful too long".
Joshua Neicho is a PR officer in the higher education sector and a freelance journalist. Follow him on Twitter here.