Big Media attention has focussed on Wandsworth and Westminster where this year's local elections in the capital are concerned, but the Conservative borough that looks most likely to switch to Labour is Barnet.
Never once Labour controlled – though the party have governed for two terms with Liberal Democrat support – it was on Labour's London hit list in 2014 and 2018, but the Tories held on, helped last time by the deterring influence of Jeremy Corbyn. Only Haringey, where an advance Corbynite takeover had been effected, saw more Labour seats lost on a day when the party made gains in the capital overall.
But this time Barnet really could finally turn red. As Lewis Baston has explained, a combination of long-term demographic shifts, ward boundary changes, the troubles and general tone of Boris Johnson's government and Corbyn's replacement as Labour leader by Keir Starmer look set to deliver the modest swing required.
One of the wards that seems a good bet to change hands is West Hendon. The Conservatives' winning margins there in 2018 were narrow – just 52 votes separated the elected third-place Tory and the fourth-place Labour candidate – and a small boundary change could be of large significance, as it has moved the Tory-voting private housing Shirehall area near the North Circular into the adjoining Hendon ward.
Two of 2018's victorious Conservatives are not defending their seats: deputy mayor Saira Don is standing down from the council and Alex Prager is contesting the safer Hendon instead. The one 2018 victor seeking re-election in West Hendon, Helene Richman, has switched to the Liberal Democrats amid rancour and conflicting claims.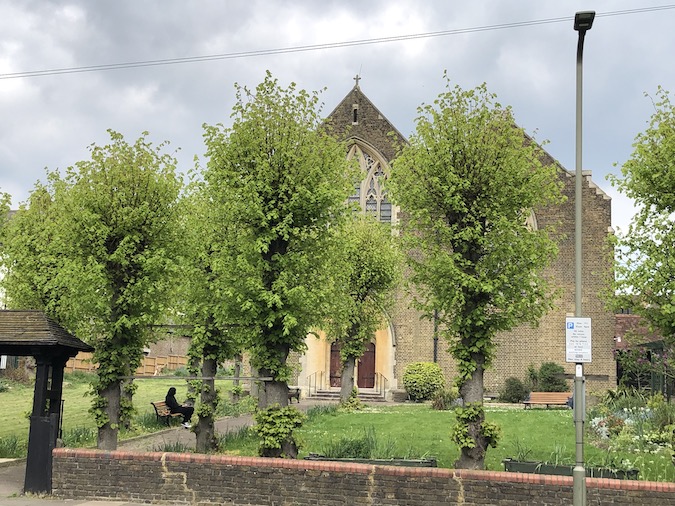 Walking round the ward on Monday I ran into three canvassers for Richman, who stressed the local record of the candidate rather than her party colours. That seems to make sense, not least because in 2018 three Lib Dem candidates mustered fewer than a 1,000 votes between them. This time, Richman is their sole representative, battling three Labour rivals, three Tories and a Green. If any personal vote for her comes from Tory supporters rather than from Labour, which logic suggests would be the case, the Conservative position looks weakened further.
The north-east part of the ward comprises wide, low-rise streets to the west of the Northern Line's Grade II-listed Hendon Central station, which stood among fields when opened in 1923 but is now an urban centre amid a suburban residential spread. The architectural terrain is characterised interwar designs, pebble dash and mock-Tudor in conversation. The conditions of the dwellings varies from the proudly smart to the dogeared and tired, perhaps reflecting a blend of private rent and owner-occupation.
Walking west, I came upon the church of St John the Evangelist, whose website stresses that it is "active and diverse". A Muslim woman sat resting in its gardens. The Barnet Multi-Cultural Community Centre is on the same bit of road.
The ward is incongruously bisected by the M1, negotiated by a footbridge, which carries you into the West Hendon district itself, an area distinguished by the contrasting features of the Brent Reservoir – better known as the Welsh Harp, a name borrowed from a local pub that disappeared in the 1970s – the A5 Edgware Road and the West Hendon estate, now undergoing a long-stalled and sharply contested regeneration.
There is a large builder's hoarding there, but there are new, pale-bricked medium rise blocks too. A Labour source believes the emerging new estate will be helpful to the party, in part because incoming young professional couples, perhaps first time buying incomers from Camden or Brent, will be Labour-inclined – part of the wider patterns of outward migration that have made outer London boroughs more conducive to Labour in recent years.
There were 63 seats in Barnet in 2018, shared between 21 wards. The Tories won 38-25, having clung on by a single seat four years before. This year the number of seats is the same, but they are shared between 24 wards instead: 15 returning three councillors, nine returning two. The winning post is 32 seats. Big Media, watch this space.
On London is a small but influential website which strives to provide more of the kind of  journalism the capital city needs. Become a supporter for £5 a month or £50 a year and receive an action-packed weekly newsletter and free entry to online events. Details here.