London is not alone in its desire to harness new urban mobility and create liveable neighbourhoods that prioritise walking and cycling. But, depending on where you live in the capital, shifting to a less car-dependent lifestyle can be challenging.
This is particularly the case in Outer London. Patchy public transport links and a lack of walking and cycling infrastructure make private car ownership and use unsurprisingly higher.
What remains of Ford's Dagenham car plant straddles the boundary between Dagenham and Hornchurch in East London. In 1931, 2,000 Ford employees moved in to build what was considered to be the transport of the future: the private car. Close to 11 million engines and the best part of a century later, the council has now granted planning consent to turn part of the former factory site into a modern housing development.
When the factory's new wave of residents moves in (3,000 homes are planned at Beam Park), the London they call home will look a lot different from the city of 1931. Ninety years ago, most policymakers were vehemently opposed to curbing the blossoming relationship with the private car. Nowadays, led by Sadiq Khan's zero-carbon target and active travel ambitions, London is beginning to rethink its place.
Yet, according to Beam Park's planning application, 53 per cent of the new homes built on the site will have a parking space. This meets the London Plan's maximum standards for parking and would be lower than the Barking & Dagenham average, but still leaves little scope for its residents to shift to more sustainable modes of travel.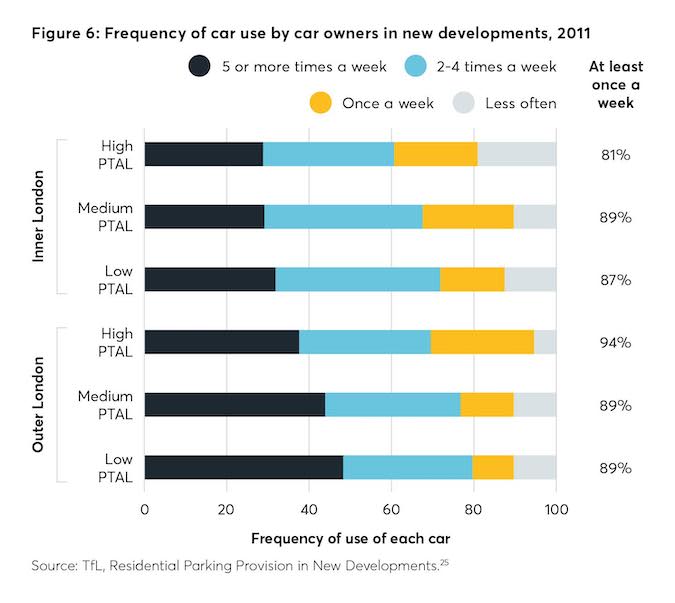 So, much like their predecessors, most of Dagenham's new residents will own and drive a car. And they're not alone. According to research by Transport for London, car parking provision is more likely to be found in new developments than in existing stock. The mantra of "if you build it, they will come" holds true in this case, and residents of new developments are more likely to own a car and use a car than the general London population.
Given the urgency of shifting to sustainable modes, Centre for London research suggests ways in which London can ensure the neighbourhoods it is building now are walkable, liveable and fit for the future. We designed a set of principles to help make travel in London's new neighbourhoods less reliant on the private car.
One: Master plans should be based on active travel and public transport by tying together street patterns and locating public services within close reach. 
There is mounting evidence to show that dense, walkable neighbourhoods with low traffic levels, good public transport and quality green space have a positive effect on both place and property value. To many developers, this should seem like a "win-win" opportunity.
Some development models may more readily lend themselves to considering the long-term value of a place: such as build-to-rent models or community-led housing schemes. However, more conventional development models must also recognise the positive long-term impact that new urban mobility can have.
Two: Any car parking built should be convertible to other uses. 
While many rely on it today, newly built car parking risks becoming obsolescent in places where public transport improvements are planned, or where improvements to walking and cycling routes could entice more residents to choose active travel. Architects Hawkins\Brown have modelled how a basement car park can be made convertible, namely by introducing higher ceilings, light wells and reducing the load above ground. In a 30-year stretch, the space once used for car parking has flexed into a space for commerce and leisure.
Three: Building and estate managers should offer renewable parking membership to residents of new developments. 
Rather than owning a parking space (the price of which is often bundled into the purchase of a property), new residents should be offered membership of one, which they could relinquish further down the line if it was no longer required. Even if they don't drive it, many Londoners still own a car if they also own a car parking space near their home. Unbundling the two could help incentivise more sustainable travel behaviour, while recognising that not everyone is in a position to do so straight away.
Back in the new Dagenham development, the decisions made at these early stages of redevelopment represent an opportunity to encourage efficient, sustainable and healthy forms of travel accessible to all of its new residents. However developers need to embrace adaptability – particularly when building car parking – if they are to create a new wave of London's neighbourhoods that are fit for the future.
Read Centre for London's latest report to see the full list of principles for Building for a New Urban Mobility.
Onlondon.co.uk is committed to providing the best possible coverage of London's politics, development, social issues and culture. It depends on donations from readers. Individual sums or regular monthly contributions are very welcome indeed. Click here to donate via PayPal or contact davehillonlondon@gmail.com. Thank you.