The government has given London the smallest share of a national fund designed to assist communities across the UK in need of investment in skills, employment and local businesses as part of its "levelling up" agenda.
Only £1.9 million of the £203.3 million awarded today from the UK Community Renewal Fund (UKCRF) will come to the capital, compared with nearly £47 million for Wales, which has a population of 3.3 million compared with London's approximately nine million, £8.5 million for Scotland (population 5.5 million), £12.4 million for Northern Ireland (1.9 million) and £125.5 million for England as a whole.
Analysis by London Councils shows that the allocations represent only a 30 per cent success rate for bids by London-based schemes, compared with an 89 per cent success rate for Wales, a 42 per cent success rate for Northern Ireland bids, a 36.8 per cent for England as a whole and a 31 per cent rate for Scotland. There were 20 bids from London of which six were successful.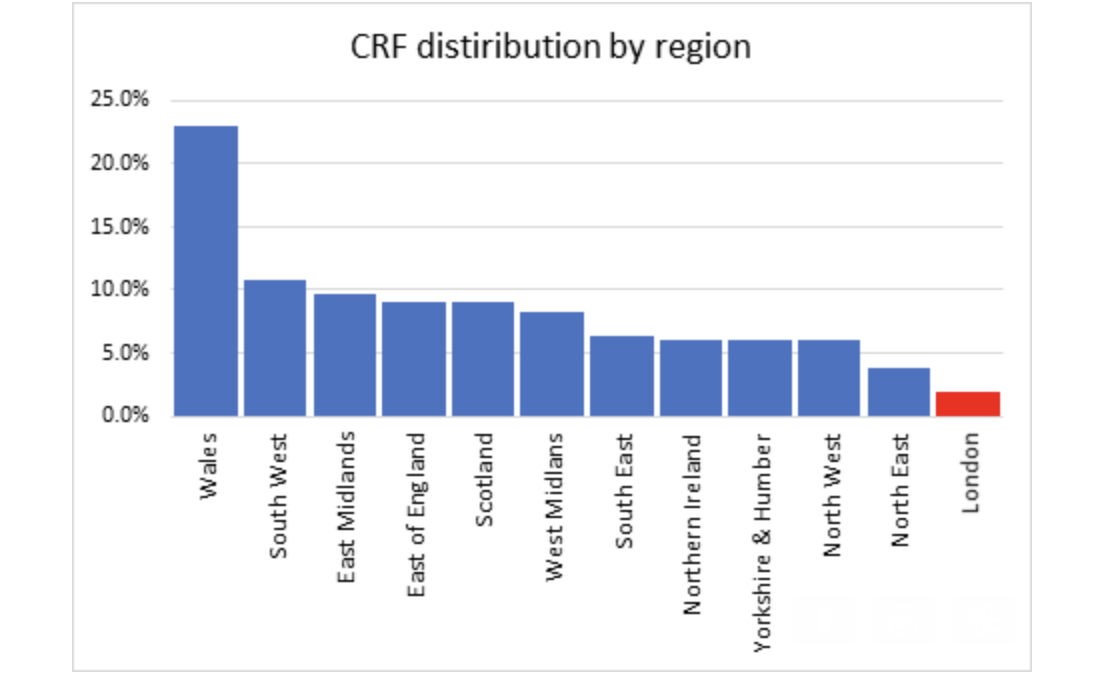 The UKCRF, which is the responsibility of Michael Gove's Department for Levelling Up, Housing and Communities, is described on the government website as "complementary to the announcements made for both the Levelling Up Fund and Community Ownership Funds made at last week's spending review."
London has received the smallest share of the £1.7 billion Levelling Up Fund money disbursed so far except for Northern Ireland, and the Treasury "red book", containing the detail of the spending plans, says the first round of the Community Ownership Fund will support projects in Wales, Scotland and Northern Ireland only.
The UKCRF, which the government says amounts to £220 million in total, is billed as helping places across the UK prepare for the introduction next April of the UK Shared Prosperity Fund, designed to replace European Union "structural funds" for poorer areas, and as "contributing to the levelling up agenda."
Pre-pandemic analysis by the Institute for Fiscal Studies found London to have the highest poverty rate in the country, including by the severest measures of it.
Graph courtesy London Councils.
On London is a small but influential website which strives to provide more of the kind of  journalism the capital city needs. Become a supporter for £5 a month or £50 a year and receive an action-packed weekly newsletter and free entry to online events. Details here.