London Town boss Don Lonno has made a desperate "free hit" transfer market play as the devastating impact of the Omicron variant reduced him to selecting just nine players for Fantasy Premier League Gameweek 18.
He joined other so-called managers across the globe scrambling for solutions to five of the coming weekend's ten scheduled real life Premier League fixtures being postponed, weeping piteously as they make up their numbers with panic buys from Burnley and Leeds.
But the incorrigible Lonno continues to deny himself such flexibility, insisting that to pick players from non-London clubs would be a "betrayal of everything I stand for" and result in "the name of my team looking daft".
The "free hit" option lets managers make unlimited changes to their squads for a single Gameweek, but with three of London's six Premier League teams not playing this weekend, Lonno is unable to name a full line-up.
Fantasy League rules forbid squads containing more than three players from any single club, so with only Tottenham, Arsenal and Chelsea in action in the next two days Lonno has re-signed faltering Spurs striker Harry Kane and the more productive Son Heung-min, having sold them when a Covid outbreak struck White Hart Lane, and topped up with Lucas Moura.
Arsenal trio Emile Smith Rowe, Kieran Tierney and Alexandre Lacazette unsurprisingly – and unavoidably – retain their places as do Chelsea's Mason Mount, Edouard Mendy and Reece James. Pointlessly, two Crystal Palace players also appear on the team sheet for purely technical reasons. The bench is equally redundant.
The midweek purchase of Lacazette in place of errant team mate Pierre-Emerick Aubameyang has been described by people who make clever charts as "a "bold differential option" (see clever chart below).
The latest Covid crunch threatens to abruptly end a sustained Town revival in recent weeks, which has seen Lonno's lads pick up 206 points from the last four Gameweeks, including 47 in GW17 when the postponement of Brentford's match due to the virus left Lonno with only 12 players to pick from, including one with a persisting injury, though they still lie an indifferent fourth in their yawningly predictable domestic league.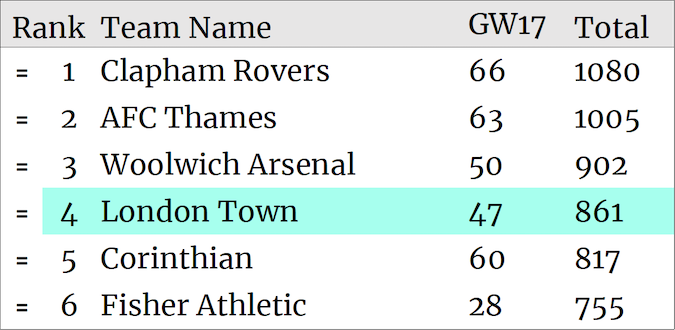 At his press conference today, Lonno rebuffed suggestions that his self-imposed Londoncentric selection strategy is a form of lunacy that makes him a laughing stock. And he ruled out resorting to the so-called Watford Annexation Option, which would give Town seven squads to picks from instead of six by pretending Greater London includes part of Hertfordshire. Such a move would be "unnatural" and "worse than heresy," Lonno growled. "I'd rather vote for Shaun Bailey. And anyway, Watford are crap."
Desperate GW18 team sheet in full below. Mount miracle performance required.
Lorcan O'Dolles is a composite fictional construct partly of Irish descent. Follow Lorcan on Twitter.
On London is a small but influential website which strives to provide more of the kind of  journalism and occasional utter nonsense (see above) the capital city needs. Become a supporter for £5 a month or £50 a year and receive an action-packed weekly newsletter and free entry to online events. Details here.