The remains of the Clerks' Well, marked by a plaque at 16 Farringdon Lane, are one of the smallest yet most remarkable bits of medieval Clerkenwell still visible above ground, and the spring water source of the area's name. You can see what is left of the well through a window of the offices of Well Court.
The well got its name because it was the location where, for centuries, parish clerks performed so-called miracle or mystery plays of a moralistic or liturgical nature. These increasingly came to feature more light-hearted "interludes" performed by actors, which helped pioneer the emergence of early English dramas. It is easy to see that plays such as Christopher Marlowe's Faustus owed much to the centuries of the miracle plays  preceding them.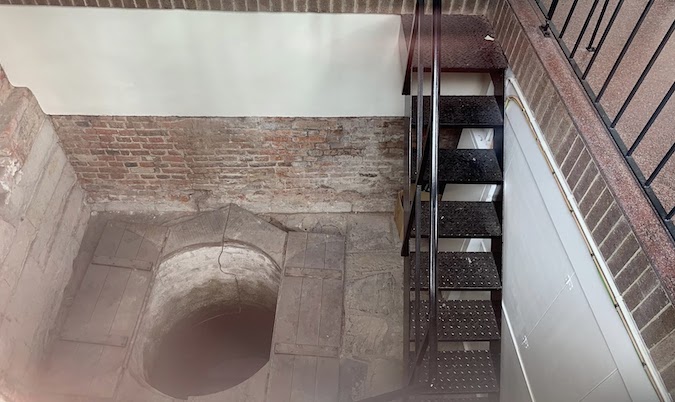 Nearly 900 years ago the well became an essential part of St Mary's Nunnery, one of a necklace of religious houses that dominated an area now characterised by pubs, offices, car parks, the London Metropolitan Archives and a Peabody estate. St Mary's was built in 1144 close by the River Fleet by Jordan de Bricet, a Norman knight and Lord of Clerkenwell manor. Its layout was designed so that the well could be incorporated into its western wall, as shown by the blue circle on the Agas map above.
The nunnery was curious in that it rarely had more than 15 nuns in residence, yet its land (highlighted in yellow) covered 60 acres, which would have amounted to four acres per nun. It was adjacent to the Priory of St John, also built by de Bricet. Soon to come nearby was the first Blackfriars monastery, built in 1224, where the Goldman Sachs building is today, and walk down to the river would have brought you to the Greyfriars monastery. A later and nearer addition was the Charterhouse, built in 1372, a richly preserved medieval building not far from the Priory Church of St Bartholomew.
That was an astonishing number of monastic institutions for one part a city with a population of around 20,000 in the year 1200. London also had a huge number of churches, especially in the City. If you walked in London in medieval times you walked with God. How times have changed.
If you stand at the edge of Clerkenwell Close next to the Crown pub – where Vladimir Lenin, who worked from 37a Clerkenwell Green, is supposed to have had a drink with a young Joseph Stalin in 1903 – you can get a good idea of how large St Mary's was. It extended right along Farringdon Road and Lane to Town's End, a road so called because it was where London suddenly ended and became fields. On a modern map, Vineyard Walk marks where the nunnery's vineyard would have been.
Also from Clerkenwell Close you can see St James church, which is on the site of the nunnery's original church, also called St Mary's. It survived the dissolution of the monasteries in the 1540s and today, although reconstructed, still contains one or two pieces of the ancient wall (photo below).
The dissolution saw the area's land divided up among Henry Vlll's cronies. Mansions built there included Challoner House, later known as Cromwell House where Oliver Cromwell is sometimes said to have had a residence. On the opposite side of the road stood Newcastle House, where the intriguing Margaret Cavendish lived with remnants of the nunnery in the garden.
St Mary's had its ups and downs financially but prior to the dissolution it was drawing rents from 64 parishes plus dowries from outside London and rents from nobles and others renting property within the confines of the nunnery itself.
Rents accounted for over 60 per cent of the institution's gross revenue, making it more like a property company than a priory. But that doesn't erase its history, which still permeates Clerkenwell and enables us to conjure up images of what it looked like in medieval times.
More information about the Clerks' Well can be obtained from Islington Council's local history centre.
This article is the 16th of 25 being written by Vic Keegan about locations of historical interest in Holborn, Farringdon, Clerkenwell, Bloomsbury and St Giles, kindly supported by the Central District Alliance business improvement district, which serves those areas. On London's policy on "supported content" can be read here.