In the age of rap you don't often hear the strains of The Lambeth Walk, a song and dance of Cockney nostalgia that once swept the world. Dozens and dozens of cover versions have been made, by everyone from Duke Ellington and Gracie Fields to the cast of Eastenders. A spoof version by British intelligence featuring German soldiers marching backwards and forwards to its rhythms became part of the war effort when an enraged Joseph Goebbels apparently stormed out of the viewing room kicking chairs as he went.
The original version was made famous by Lupino Lane, himself a Cockney, in the show Me and My Girl, which opened close to Lambeth at the Victoria Palace theatre on December 16, 1937. Its wistful lyrics and evocation of Cockney camaraderie glossed over the deprivation that made Lambeth Walk the slum it was at the time.
"Any time you're Lambeth way,
Any evening, any day,
You'll find us all
Doin' the Lambeth Walk. Oi!"
Lambeth Walk wasn't even the street's proper name. It was formerly known as Three Coney Walk. A coney (or cony) is an old word for "rabbit", reflecting the rural idyll that part of Lambeth once was.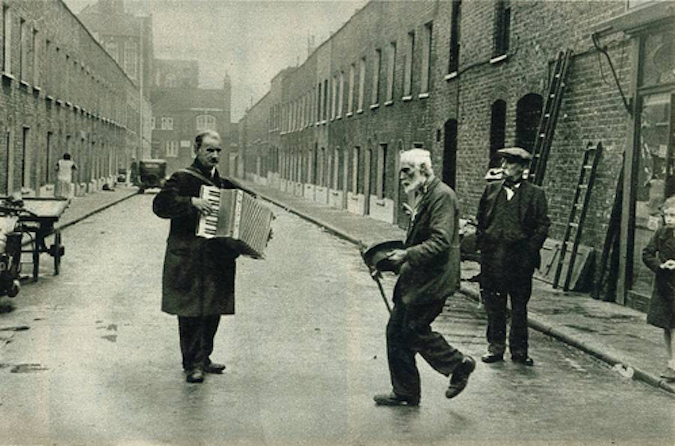 While Lupino Lane was singing, residents were barely eking a living from 160 market stalls stretching over 200 yards selling goods and food purchased cheaply by costermongers or barrow boys from the surplus requirements of "authorised" markets elsewhere. Lambeth Walk was so poor it had three pawnbrokers offering loans to desperate residents in exchange for blankets or clothing or whatever to tide them over until payday.
Today, visitors find an ordinary street that seems to have shaken off its history. As you walk from the junction with Lambeth Road you pass a doctor's surgery, King's College maths school, an open air pulpit, a hostel and an array of shops. Not a single barrow or market stall in sight. When you come to Lollard Street on your left you are close to the road where the iconic picture of a few locals re-enacting the Lambeth Walk (above) took place. Apart from a few old houses that remain, urban renewal has swept history away.
Vic Keegan has gathered many of his Lost London pieces into a very handsome hardback book. Buy it HERE.
OnLondon.co.uk provides in-depth coverage of the UK capital's politics, development and culture. It depends greatly on donations from readers. Give £5 a month or £50 a year and you will receive the On London Extra Thursday email, which rounds up London news, views and information from a wide range of sources, plus special offers and free access to events. Click here to donate directly or contact davehillonlondon@gmail.com for bank account details.