Westminster Cathedral, with its skyscraping campanile, looks anything but lost as it flaunts its Byzantine brick magnificence across the pedestrianised piazza that links it to Victoria Street. You would never think it has lost its marbles. But it has – well, some of them.
The cathedral is rightly celebrated for its marble floors and columns imported from 25 countries, but there is also an unsolved mystery about them. How was it that some of the finest marble intended for the cathedral ended up in the Surrey House head office of the Aviva insurance company in the centre of Norwich?
One version of events – almost certainly untrue – is that marbles journey by sea from Europe was disrupted by a strike on board the ship. Another is that there was an accident en route which resulted in the cathedral making a successful insurance claim on the grounds that the cargo was lost, only for the marble to later be recovered, whereupon the Norwich Union insurance company – as Aviva used to be known – took possession of it. Much more likely is that the cathedral simply ran out of money or encountered what are politely called "logistical problems".
Whatever the reason, a lot of marble destined for the cathedral wasn't used there. The suppliers, Lambeth-based Farmer and Brindley, were able to offer the architect of the Norwich building, George Skipper, quantities of the highest quality coloured marble from around Europe at a discount. Skipper persuaded the directors to break their budget and accept the treasures. That is why being in the entrance hall of Surrey House (pictured above) is like entering a fairytale palace. Quite astonishing. It inspires a sense of awe that is normally reserved for, well, an abbey or cathedral.
Marble, however, is not the only thing lost in Westminster Cathedral's history. It is now a well established, highly successful Roman Catholic institution and a well-loved tourist attraction, but its story was nearly very different. It was originally to be a Gothic extravaganza inspired by Cologne Cathedral and designed by Henry Clutton, who was commissioned by Cardinal Manning, the Archbishop of Westminster – somewhat controversially as the two men were cousins.
Clutton spent six years years on various versions (example below), including one that would have been only slightly smaller than its Cologne model.
But after Manning died and Cardinal Vaughan took over it was accepted that the Clutton project was far too expensive, would have inviting unwelcome comparisons with Westminster Abbey and could have taken up to a century to complete. Instead, John Francis Bentley's stunning Byzantine alternative was built. It featured internal walls left empty that could be "ornamented at leisure" with mosaic, a process that is still far from finished.
One important thing was not lost in this saga. The cathedral was constructed on the site of Tothill Fields Bridewell prison, which stretched from Victoria Street to Francis Street. The institution's nine foot deep foundations were so solid that most of them were retained and the cathedral built upon them.
You can't see the foundations from inside the building but in May 2014 when a trench was being dug in Thirleby Road, part of Ashley Gardens flats, it revealed some of their brickwork. This was seen by the London Historians group, which happened to be meeting nearby in what was then called the Cardinal pub – after Cardinal Manning – and has since reverted to its original name, the Windsor Castle.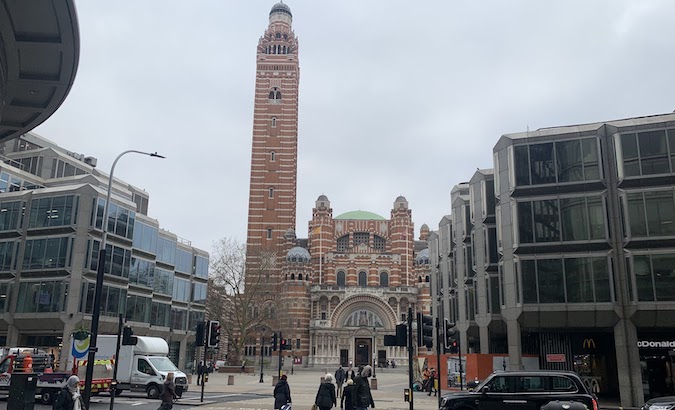 The Cathedral (above) is now a beautiful sight. But it was not always easy to see. Until 1975, if you were walking along Victoria Street, particularly on the south side, the view of it was obscured by a terrace of offices and shops. The opening of the piazza has been an unqualified success. A little bit of London that was lost to view is now unlost. It is not often we can say that.
All previous instalments of Vic Keegan's Lost London can be found here and a book containing many of them can be bought here. Follow Vic on Twitter.
On London strives to provide more of the kind of  journalism the capital city needs. Become a supporter for £5 a month or £50 a year and receive an action-packed weekly newsletter and free entry to online events. Details here.