A Labour councillor in Wandsworth has been suspended by the party and prevented from seeking re-election on 5 May after writing on Twitter that Chancellor Rishi Sunak "should go back to India with his billionaire wife".
Peter Carpenter, who currently represents the West Hill ward, has deleted his Twitter account, but not before the tweet, which also described Sunak, who was born in Southampton to Indian parents, as "a complete waste of space", attracted a complaint.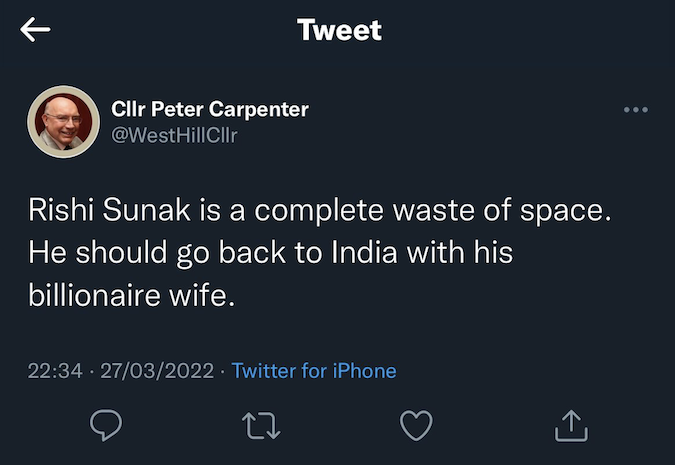 In a message to party colleagues, seen by On London, Labour group leader Simon Hogg advises them of Murphy's suspension "with immediate effect pending investigation" in response to the tweet, which was made on Sunday evening.
"I am extremely disappointed by with the comment made by councillor Carpenter," said Hogg in the message. "Views such as those stated have no place in the Labour Party".
Hogg also warned: "It is possible that there will be reference made to this by the Tories – who may also try to use it in the press or their campaign material." And he stressed: "It is important that the tweet is not circulated and that you make no public comment on this issue".
Wandsworth is a long-running Conservative local government flagship, which Labour has hopes of winning control of in May having reduced the Tory majority in 2018 and won a larger share of the overall vote in the borough.
On London is a small but influential website which strives to provide more of the kind of  journalism the capital city needs. Become a supporter for £5 a month or £50 a year and receive an action-packed weekly newsletter and free entry to online events. Details here.