Putney is one of London's most interesting constituencies in the 2019 election. It is rich in political history and the social contrasts that make London such a distinctive electoral region, and it is a marginal seat that changed hands in 1997 and 2005 and may yet do so in 2019. While Labour has struggled to gain traction in many traditional marginals, the party's campaign in Putney has had a surprising degree of (small m and big M) momentum behind it and now looks like one of the party's most realistic hopes of making a gain.
The Putney constituency is centred around the attractive neighbourhood of that name. Thamesfield ward covers the riverside stretch, which has the highest concentration of affluent young professionals and plays host to the Boat Race every spring. Recently, I was amused to see a letter to the local paper in which a politician (I can't remember who) was described as "rowing with only one oar in the water", which is the most Putney insult imaginable. The wards of West Putney and East Putney, up the hill and south of the rail line, are not dissimilar, and Southfields is also home to many young City professionals commuting along the District Line. 
Roehampton is different, being mostly council-built including the large Corbusian development of the Alton Estate. West Hill is a mixture of social and private housing. Putney is studded with estates large and small, interspersed with some grand old villas and some classic terraced "middle London" neighbourhoods. Its demographics are extreme – it has, as the stereotype suggests, very high proportions of people in employment and people aged 25-44, and is in the top 10 constituencies nationally for people with degrees and working in the higher professions.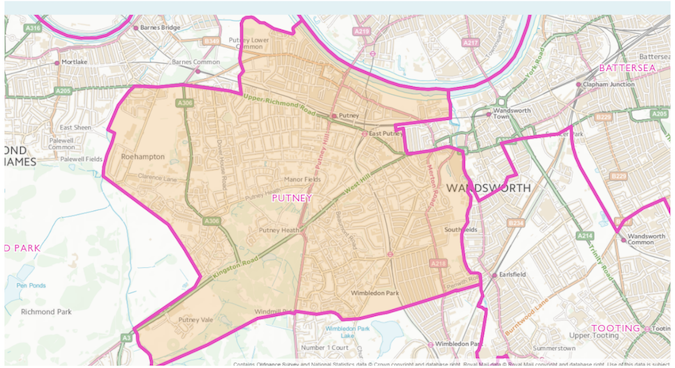 Putney's first political association is with the 1647 Putney Debates, the discussions among Cromwell's New Model Army about the principles of a just society. Some of the first calls for the social contract and something like representative democracy were made at Putney, by men such as Colonel Thomas Rainsborough who argued that:
The poorest he that is in England hath a life to live, as the greatest he; and therefore truly, Sir, I think it's clear, that every man that is to live under a government ought first by his own consent to put himself under that government; and I do think that the poorest man in England is not bound in a strict sense to that government that he hath not had a voice to put himself under.
Putney's political history, though, has tended to the right. It was a safe Conservative "villa Tory" suburb when it received a parliamentary seat of its own in 1918 and it remained so, even through the 1945 Labour landslide, until the narrow Labour victory in 1964. This owed much to the construction of council housing in Putney. Labour's Hugh Jenkins represented the seat from 1964 until 1979. He was a left-wing MP who served for a while as arts minister. But as the early years of gentrification began in places like Putney and Fulham, the terraced areas became home to increasing numbers of young, rich Londoners and the political consequences came through in 1979 when the seats both sides of Putney Bridge went Conservative. 
David Mellor captured Putney, and this civilised but rude, abrasive and accident-prone Tory represented the seat for 18 years, including an all-too-short spell in charge of the arts in the new National Heritage ministry in 1992. His term ended at one of the rowdiest counts of election night in 1997 when Sir James Goldsmith and some of the other rag, tag and bobtail candidates chanted "Out! Out! Out!" at the defeated Mellor. While Mellor equably conceded that he had lost "fair and square" to Labour, he poured scorn on Goldsmith: "Up your hacienda Jimmy… you can go back to Mexico knowing that your attempt to buy the British political system has failed… he's failed almost as abysmally as his son in law did in Pakistan." Twenty-two years later, the Conservative Party has been rebuilt in Goldsmith's anti-EU image, another Goldsmith has represented neighbouring Richmond Park for most of the last ten years, and Imran Khan is Prime Minister of Pakistan.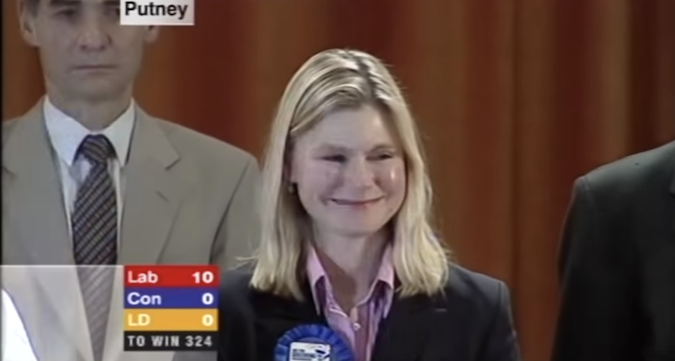 After Mellor came Labour's Tony Colman and then, in 2005, Putney was the symbol of Conservative renewal. It was the first seat to declare for the Conservatives on election night – Wandsworth council tends to count elections quickly and thereby burnish its image for efficiency – so for a short while its new MP Justine Greening was the only Tory MP in the country. As a comprehensive school girl from Rotherham, representing an upwardly mobile sort of seat, Greening seemed to be the future face of the Conservative Party. She won large majorities in 2010 and 2015 – David Cameron was the sort of leader who went down well in Putney, and she was a good fit for the seat as well – but was at the wrong end of a 10 per cent swing to Labour in 2017 that returned the seat to marginal status.

Greening served in Theresa May's Cabinet as Education Secretary in 2016-18 but then she and the Conservatives drifted apart. She is strongly pro-European, grew increasingly uncomfortable with hard Brexit and, in September 2019, she lost the whip for rebelling on the vote on the Benn Act that averted No Deal. She remained an Independent to the end and has stayed out of the election campaign. In an interview for Prospect she consciously echoed Tony Benn in saying that she was leaving Parliament to spend more time on politics, particularly social mobility, and excoriated not only her own party but the whole party system:
The British party system is no longer up to the job. The three main parties have been around for over 100 years and it feels like they are past their sell-by date, hollowed out from within; fewer citizens these days are moved by loyalty to them. The issues Britain faces—whether on Brexit, climate change, social care or my own passion, social mobility—need long-term approaches. Our ossified political structures seem unable to deliver. These big issues cut across party lines, and so party politics inhibits solutions to the thorny problems we all care about.
Greening's disenchantment seems to be shared by many of her constituents, who voted heavily for Remain in the referendum. Putney is mostly affluent, but despite its superficial Thatcherite celebration of wealth there is a liberal and cosmopolitan streak to its politics. Putney Tories are mostly in the model of Mellor and Greening, and Tory-controlled Wandsworth Council does not engage in cultural warfare no matter how keen it is on the economics of low taxes and outsourcing.
At the start of the 2019 election campaign, Putney seemed to be a genuine three-way marginal. The Liberal Democrats were well ahead in the European elections in May, despite their consistent weakness in Wandsworth. But as the party slipped back nationally it became clear that Labour were the principal challengers to the Conservatives in Putney. Unlike in Kensington or Finchley, that argument was concluded earlier in the campaign. That said, the Lib Dem vote is still fairly high, reflecting the considerable numbers of wealthy anti-Brexit liberal conservatives and highly educated social democrats who can stomach neither the Johnson nor the Corbyn packages.
The candidates themselves are among the most acceptable faces of the two parties as far as Putney is concerned. Conservative Will Sweet, a young Wandsworth councillor, is from the liberal wing of his party, a former Remainer who has had to come to terms with the Johnson ascendancy while offending as few people as possible. Fleur Anderson was deputy leader of the Labour Group on Wandsworth Council until she was selected as candidate for Putney. She is a proud pro-European, energetic and personable on the campaign trail. 
Labour's campaign in Putney has attracted astonishing numbers of volunteers. Activists from across London and even Surrey have poured into Putney (and neighbouring Battersea), mostly on their own initiative after locating their nearest marginal seat rather than as a result of organised help from Momentum or the unions. They have been getting three-figure numbers of volunteers throughout the campaign, with an upward trend – 400 people over the last weekend and an astonishing 700 on Monday night, including Guardian columnist Owen Jones and comedian Mark Steel. Even in the well-organised, disciplined world of Wandsworth politics, these numbers are "a logistical nightmare".
It is difficult not to be impressed by the enthusiasm and the genuine comradeship between different wings of the party on display in the Putney Labour campaign. If raw energy alone could win an election, it would be a landslide, but Putney is no pushover. It has its wealthy residents and older people nervous about a Corbyn government, and the Conservatives are traditionally also strong and successful campaigners in Wandsworth, holding four of the seat's six wards in the May 2018 borough elections.
On the eve of poll the constituency looks close – Best for Britain's MRP analysis had the Conservatives ahead by three points, while the big YouGov MRP model published on Tuesday evening had Labour three points ahead. In Boat Race terms, it's a dead heat as we come to the final bend.
Map image: Ordnance Survey, under open government terms. Image of Justine Greening from BBC election night coverage, 2005. Top photo: Labour rally with Fleur Anderson at Southfields Underground station, by Lewis Baston. 
On London is providing the fullest possible coverage of the 2019 general election campaign in the capital, along with other big issues for the city. The website depends on financial support from readers to pay its freelance writers. Just £5 a month makes an important difference. To donate to On London, click here. Thank you.